Norman, Okla. — Bill Self playfully fired a left jab at Devonté Graham's upper chest before Kansas University's sophomore guard — the man who dealt a knockout blow to Oklahoma on Saturday in Lloyd Noble Center — began his post-game interview with ESPN's Shannon Spake.
"He said, 'Good game, way to play,''' Graham, a 6-foot-2, 175-pounder from Raleigh, N.C., said of praise showered upon him by KU coach Self after Graham's career-high 27-point effort and lockdown performance on Buddy Hield led to a 76-72 victory over the Sooners.
Self tossed more compliments Graham's way during a post-game news conference held after the Jayhawks improved to 21-4 overall and 9-3 in the Big 12 (good for first-place tie with West Virginia); OU dropped to 20-4, 8-4.
"What Devonté did to control the game the second half was a joke," Self said of Graham, who scored 17 points the final 20 minutes, including three threes. "Perry (Ellis, 10 points total) didn't score the second half (so) he (Graham) just puts us on his shoulders. He was so confident. I think he gives other guys confidence. 
Photo Gallery
Kansas basketball v. Oklahoma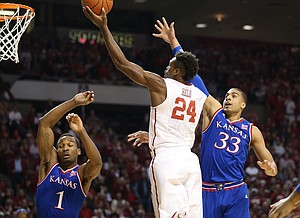 View a gallery of images from the Jayhawks' game against the Sooners, Saturday at Lloyd Noble Center in Norman.
"I think he grew up a little bit today," Self added of Graham, who hit eight of 13 shots, including six of nine from three, plus five of six from the line. Drawing the day's most difficult defensive assignment, he helped hold Hield to 24 points off 5-of-15 shooting. Hield missed his first seven shots, scoring just six the first half, as KU led, 38-33, at the break.
Graham basically saved the day after Frank Mason III (14 points, five rebounds, three assists) fouled out on a four-point play (three by Jordan Woodard and foul shot) with 3:18 left — KU trailed after the four-point flurry, 69-66.
First, Graham tied the score at 69 on a deep three at 3:08. 
He hit another three from the corner at 2:06 — one that erased a 71-70 deficit and put the Jayhawks up to stay, 73-71.
"We huddled up and he (Mason) told us he fouled out. After that I went up to him," Graham said. "I told him, 'I got you. I've got to put the team on my back now, because it's usually both of us.' I told him I got him and that was it."
The Jayhawks followed Graham's lead on to victory.
"All the stuff he did was big-time. He was the man today. He carried the team," said KU junior forward Landen Lucas, who took a charge from Hield with 1:10 left and KU up, 73-71.
"We all just tried to do our part. He finished it for  us," Lucas added.
Podcast episode
Bill Self marvels at Devonte' Graham's ability to put up 27 points and hold down OU guard Buddy Hield, saying, "I don't know how he didn't get tired."
After Hield hit one of two free throws at :25.3, to cut KU's lead to 73-72, Graham cashed a pair of charities at 19.9 seconds to up the margin to 75-72. 
Isaiah Cousins (21 points) missed a game-tying three with 12 seconds left. Jamari Traylor, who rebounded and was fouled, cashed one of two charities at 10.6 seconds to give KU the insurmountable four-point advantage.
"I wasn't really holding him (on the foul call that sent Hield to the line), but it was the call so you've got to move on," Graham said.
Podcast episode
Devonte' Graham and Landen Lucas on how KU picked up a huge road win at Oklahoma
"Thankfully he missed one (free throw with OU down two) because no telling, we'd probably have gone to another three overtimes (as in KU's 109-106 win over OU on Jan. 4 in Lawrence) if he made both," Graham said, smiling.
Graham admittedly was fired up for the defensive assignment on Hield. 
"I definitely took it as a challenge and he still got 24," Graham said. "I was trying to make every shot a contested shot and try to run him off the three-point line. A lot of his shots and threes find him in transition. I tried to stay on top of him and hound him the best I could."
Self did say the initial plan was to have Mason take over the assignment on Hield with 10 minutes left if nobody was in foul trouble. Mason's foul problems took care of that.
"Devonté wanted the challenge," Self said of the Graham, who played 39 minutes.
"I don't know if our team is well conditioned or not. He is unbelievably well conditioned," Self said of Graham. "He didn't get tired. It doesn't seem possible to me. His defense was excellent. He still put his head down (and drove the ball). The last five minutes of the game he splits ball screens. He was doing everything that requires energy."
Graham wasn't too tired to have some fun, posing after his last three from the corner.
"It's big," he said of the victory, "just enjoying it. Our coaches tell us we've got to enjoy every moment. When you are on this stage you just try to have fun. I was just out there having fun."
And helping make a national name for KU's backcourt.
"I think our guys have been on the outside looking in as far as being thought of having a premier tandem nationally," Self said. "I think this will probably do some things to garner them a little more attention. There's a lot of players out there really good but do not have the 'it factor.' He has that factor walking around campus every day. They talk about Buddy's personality, energy. Hey, Devonté doesn't have any bad days, either. I think that rubs off on everybody," Self added.
KU will next meet Oklahoma State at 8 p.m., Monday, in Allen.
— See what people were saying about the KU-OU rematch during KUsports.com's live coverage
---
More news and notes from KU's win at Oklahoma
---
https://www.youtube.com/watch?v=GSYQqbU9KmQ
---
https://www.youtube.com/watch?v=FX08crQO_EE
---