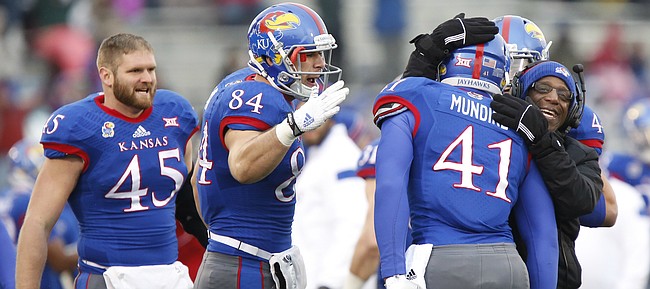 The man who brought more four-star football recruits to Lawrence during the past six years than any other coach is leaving Kansas.
A source close to the Kansas football program on Friday morning confirmed that running backs coach and recruiting coordinator Reggie Mitchell is leaving KU for a similar position on Bret Bielema's staff at Arkansas.
Reached by phone Friday night by the Journal-World, Mitchell said the decision to leave KU was difficult but that a new challenge in the SEC at a "special place" was too good to pass up.
"I spent 16 years of my life here," said Mitchell, who is expected to start his new job next week. "And I always said I'd never leave unless it was a great opportunity. So it was tough, but I'm very excited and honored about the chance to join the Razorback family and to work for Coach B."
The move, which no doubt comes with a raise and offers Mitchell a better opportunity to rack up victories in the immediate future, marks the second member of KU coach David Beaty's staff to leave Lawrence after one year under Beaty and represents the third full-time assistant to be removed from Beaty's cabinet. Gary Hyman, who spent 2015 as KU's special teams coordinator, was reassigned in the offseason but is still with the program. Kevin Kane gave up his post as KU's linebackers coach to take over as the defensive coordinator at Northern Illinois.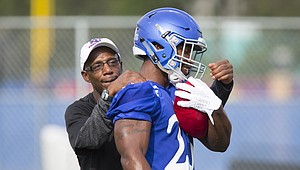 Mitchell, 55, worked under four head coaches at KU — five if you count 2014 interim coach Clint Bowen — and developed a reputation, both at Kansas and previous stops at Michigan State and Illinois, as one of the top recruiters in the nation.
According to a Friday morning report from SI.com, Mitchell will fill an opening left by former Arkansas special teams coordinator and running backs coach Jemal Singleton, who left last week to become the running backs coach for the NFL's Indianapolis Colts.
Brandon Bourbon, a former four-star prospect whom Mitchell inspired to pick Kansas over Stanford back in 2010, said he was surprised to learn about Mitchell's departure and sad that KU was losing someone so familiar with the program.
"He's been the one constant all these years," Bourbon told the Journal-World. "He's a great recruiter and it's crazy to think he won't be with the program any more."
Beyond his ability to entice Bourbon and others to join the Jayhawks, Bourbon said he always admired the way Mitchell pushed KU's running backs.
"I like that he brought in all the aspects, running, blocking, pass catching and really tried to make us complete backs," Bourbon said. "Plus, he was really good at emphasizing the discipline aspect and demanded that we were sharp in everything we did."
With 33 years as college assistant, Mitchell was by far the most experienced coach on Beaty's staff. According to a source in the athletic department, KU made significant efforts to keep Mitchell, who was in Arkansas on Wednesday.
The same source said KU already had received several inquiries about KU's new job opening and added that attaching the title of recruiting coordinator was not a requirement.
Despite Mitchell's years of service and quality recruiting, multiple sources in the football program used the same language on Friday when asked about Mitchell's departure.
"(We) wish him the best, but the train keeps moving," they said.