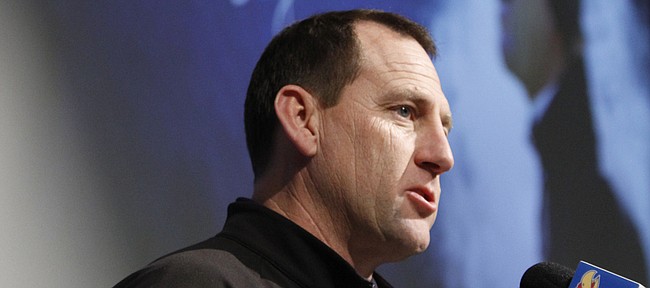 Long overdue for some good fortune, Kansas University's football program just can't catch a break.
After an 0-12 record in his first season, KU head coach David Beaty needed to score a significant victory of some sort. Landing a hometown prospect courted by multiple college football powerhouses would have done the job, but it didn't happen. Nothing that has happened on that front since has made it any easier to weather.
Oklahoma defensive-line coach Diron Reynolds locked up Lawrence High four-star prospect Amani Bledsoe, and less than a week after Bledsoe signed, Reynolds bolted for Stanford.
Kansas had hoped it could convince Bledsoe to play defensive end for assistant coach Calvin Thibodeaux, a hard-working, knowledgeable instructor.
Prediction: Bledsoe very well could play for Thibodeaux, after all. Think about it: On the one-year anniversary of losing D-line coach Jerry Montgomery to the Green Bay Packers, Sooners coach Bob Stoops lost Reynolds to Stanford. Stoops hates staff turnover. He needs to stop that door in the D-line coach's office from spinning.
Every coach has a dream job, a dream boss, a dream address. Thibodeaux played for Stoops and earned All-Big 12 honors in 2005. Thibodeaux, who came to Kansas from Tulsa, is a proven recruiter, teacher, worker.
Beaty's defensive staff already was raided when popular linebackers coach Kevin Kane, a former KU player, left for a promotion to become Northern Illinois' defensive coordinator.
For reasons beyond the makeup of the Kansas coaching staff, the chances of Kansas ending its losing streak of 38 consecutive games played outside of Lawrence any time soon look more remote than ever.
Conference realignment hurt Kansas on multiple fronts. It made the schedule tougher and indirectly toughened the recruiting road. When the Big 12 had 12 teams, Kansas played five teams from the North, three from the more stacked South. Now it's all nine fellow conference members every year, and three, instead of four, nonconference games.
The Texas ties of Beaty and cornerbacks coach/co-defensive coordinator Kenny Perry will pay off, but probably not as richly as if realignment never had happened. The fear that Texas A&M;'s departure to the SEC would open up Texas for other schools in recruiting has been realized. Per Rivals.com rankings, 21 of the top 52 recruits from the Texas Class of 2016 went to SEC schools, 23 to Big 12 schools. The trickle-down impact on Kansas won't be a positive one.