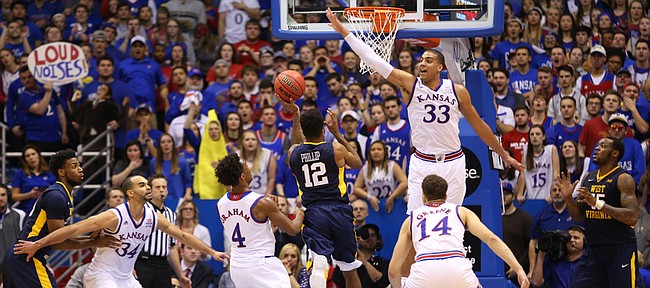 Back on Jan. 4, the No. 1 team in the Associated Press basketball poll (Kansas University) outlasted the No. 1 team in USA Today's coaches poll (Oklahoma), 109-106, in three overtimes in Allen Fieldhouse.
On Saturday, the sequel in Norman will match the now No. 3-ranked Sooners (20-3, 8-3) against the No. 6-rated Jayhawks (19-4, 8-3) at 1:30 p.m. in Noble Center.
"It's going to be awesome. It's going to be fun," KU junior forward Landen Lucas said after his 16-rebound, nine-point outing helped the Jayhawks down West Virginia, 75-65, on Tuesday in Allen and force a three-way tie for first in the Big 12. West Virginia had entered the contest a game ahead of KU and OU.
"We've got our competitive juices flowing," Lucas added. "We're ready to bring it to them. We'll be ready to play. We have a new hunger about us that I think we'll bring down there. They are a great team. It's going to be a competitive environment, and we're looking forward to it."
Oklahoma edged Texas, 63-60, on Monday in Norman, as an early-week tuneup to the KU game. Texas is just a game back in the standings at 7-4.
"We watched it. That was a great game, too," Self said of the OU-Texas contest. "I certainly hope it's another classic (Saturday). I'd like it to be a different type game. I'd like for it to be a grind-it-out game. I think that would probably benefit our chances some instead of making it a H-O-R-S-E contest like it was last time. We're going to try real hard and compete, but we're going against a team that's as good as anyone in the country, obviously."
The Jayhawks are coming off a win over No. 10-ranked West Virginia, in which Lucas helped hold West Virginia forward Devin Williams to 14 points off 4-of-10 shooting, with nine rebounds.
"With Landen, the biggest thing is him going after the ball," said KU junior guard Wayne Selden Jr., who scored 11 points with two assists, two rebounds and two turnovers in 26 minutes versus the Mountaineers. "Not a lot of people in the country can go after the ball like him and rebound the ball and guard Devin. Landen did a great job tonight. It's hard for those young guys (Cheick Diallo, Carlton Bragg Jr.) to really get in that situation. They are going to come along. We have a lot of faith in them. Carlton (one minute) and Cheick (two minutes), they can be the best on our team, especially at March time. Landen is doing what needs to be done to be that 5 guy, be that presence down low," Selden added.
Lucas said he was fired up trying to stop the 6-9, 255-pound Williams.
"Guys like him and Rico (Gathers, Baylor) ... I always enjoy those challenges," Lucas said. "We were talking a little back and forth. That gets you going, too. Those are the games I enjoy playing in.
"He's a big guy," Lucas added, "but I've gone against some pretty big guys in my time here. Just a couple years ago we had Tarik Black (Lakers) here, and he's pretty big, too. I'm used to that kind of competition."
Lucas had four blocks versus West Virginia. He entered the game with five all season.
"He (Self) has been on me about at least going for blocks. I don't have to get it every time, but it changes shots if you go and contest them," Lucas said. "I went and contested a couple shots and was able to get my hand on a couple of them. Moving forward, hopefully I can duplicate that as much as possible."
"Landen was fabulous," Self said. "I'm so happy for him. He was absolutely terrific."
He's OK: KU's Selden was coughing a bit during his postgame interview on the Jayhawk Radio Network on Tuesday.
"I'm feeling better. I'm still getting my wind back. (It's) not all the way there," Selden said. "I'm trying to get better. I'll be fine by Saturday. I'll do whatever it takes. We're excited. They are a terrific team. We're ready to go down there and compete."
Ellis on Wooden list: KU forward Perry Ellis has been named to the Wooden Award late-season Top 20 list, the Los Angeles Athletic Club announced Wednesday. Other Big 12 players on the list: Buddy Hield, Oklahoma; Georges Niang, Iowa State. KU fans have a chance to vote for Ellis for the award at woodenawardvote.com.