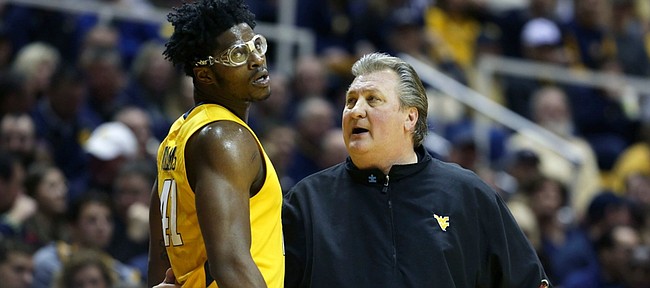 The Associated Press Top 25 college basketball poll says West Virginia is the 10th-best team in the nation and third-best in the Big 12, behind No. 3 Oklahoma and No. 6 Kansas.
The Big 12 standings say otherwise. The Mountaineers sit alone atop the conference with an 8-2 record, one game ahead of the Jayhawks and Sooners in the loss column.
The first-place standing won't make West Virginia complacent. That word is not in the vocabulary of hard-driving, rough-around-the-edges coach Bob Huggins, one of the best in the business.
"Obviously, they know what the standings are," Huggins said on Monday's Big 12 conference call. "My message, I guess, is the dog with the bone always is in danger. So we've got to continue to play as hard and hopefully as well as we can play."
Podcast episode
Kansas junior forward Landen Lucas discusses some of West Virginia's strengths the day before the Jayhawks' rematch with the Mountaineers. Lucas says WVU sends a lot of guards to the glass, which makes it more difficult for opponents to rebound. Lucas also thinks West Virginia's pressure defense can "get into ...
The analogy was well-timed. Nobody should be surprised if they look into the stands tonight and see Michael Vick, because this promises to be a dogfight of a basketball game with intensity running hot all night.
Evening the score dominates the thoughts of KU, which lost a 74-63 stinker four weeks ago in Morgantown.
"This is as big a week as we've had all year to date, without question," Kansas coach Bill Self said of a week that ends Saturday with a game in Norman, Okla. "But I told 'em it's not a big week because of the league race. It's a big week because we get a chance to play a team that's already beaten us and basically out-toughed us in a game. So I think that's the motivation. It's not always big-picture motivation, even though that's important. A lot of it's just immediate motivation of being able to compete against someone that's already handed it to us."
Podcast episode
With games coming up against No. 10 West Virginia and No. 3 Oklahoma this week, Kansas sophomore guard Svi Mykhailiuk says the Jayhawks are about to play two of their most important Big 12 games. KU struggled in a road loss at WVU in January, and Mykhailiuk says the Jayhawks ...
West Virginia had no trouble stealing the bone, as well as the basketball, from Kansas. The Jayhawks turned it over 22 times against the Mountaineers, who rank No. 1 in the nation in that statistical category. The Mountaineers also rank No. 1 nationally in offensive rebounding. One other stat puts West Virginia at the very bottom, or top, whichever way you prefer to look at it. Mountaineers' foes attempt 57 percent as many free throws as field goals, a testament to how aggressively Huggins' players defend. Iowa State, a passive defensive team, ranks first, or 350 spots ahead of WVU, with a rate of 21.4 percent, as tracked by kenpom.com.
Kansas didn't look ready a month ago for West Virginia's unconventional brand of basketball, which entails crashing the offensive boards and then, if failing to get the rebound, immediately pressuring the defensive rebounder.
"A lot of times when you can't simulate pressure or athletic ability in practice sometimes things actually do look better and you get a false sense of what's good," Self said.
Now that Kansas has experienced it firsthand, that alone should take away the shock value and enable the Jayhawks to perform much better this time.
"We didn't attack it very well, and the times that we did, we didn't score," Self said. "The three-on-twos or the four-on-twos or the four-on-threes or the two-on-ones, we didn't take advantage of them. That's something you have to do against West Virginia because you have to make them pay for extending, and if you don't make them pay, they just get hungrier and hungrier."
Nothing motivates junkyard dogs quite like hunger.
— Tom Keegan appears on The Drive, Sunday nights on WIBW-TV.