After picking up the doubles point with two dominating match victories, Kansas University's women's tennis team claimed three considerably closer singles matches to beat Colorado, 4-1, on Sunday at the Jayhawk Tennis Center.
Kansas moved to 6-0 on the season, while CU fell to 3-4.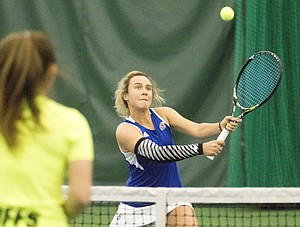 "It was very competitive. There was a huge swing from the doubles to the singles," Kansas coach Todd Chapman said. "The doubles teams from Colorado did a great job responding and came out and really competed and made some things difficult on us. Every time we've been pushed as a team this season, they've found a way to win."
KU's Nina Khmelnitckaia and Janet Koch claimed a 6-2 victory at No. 1 doubles, and teammates Smith Hinton and Anastasiya Rychagova rolled to a 6-0 victory at No. 3 to clinch the doubles point.
Hinton then defeated Nuria Ormeno Ruiz, 6-4, 4-6, 7-5 (5) at No. 2 singles; Koch edged Jeannez Daniel, 7-6 (2), 6-4) at No. 3; and Khmelnitckaia slipped past Annabelle Andrinopulos, 6-4, 7-6 (3) at No. 4.
The Jayhawks will host Wichita State at 4 p.m. on Feb. 26.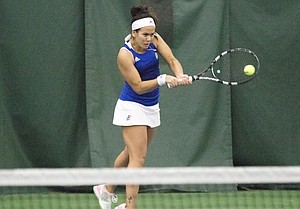 Doubles
Nina Khmelnitckaia-Janet Koch, KU, def. Tina Bokhua-Nuria Ormeno Ruiz, 6-2
Maria Jose Cardona-Summer Collins, KU, vs. Annabelle Andrinopulos-Jeannez Daniel, 2-4 (unfinished)
Smith Hinton-Anastasiya Rychagova, KU, def. Alex Aiello-Brigette Beck, 6-0
Singles
Bokhua, CU, def. Rychagova, 6-1, 4-6, 6-4
Hinton, KU, def. Ruiz, 6-4, 4-6, 7-6 (5)
Koch, KU, def. Daniel, 7-6 (2), 6-4
Khmelnitckaia, KU, def. Andrinopulos, 6-4, 7-6 (3)
Collins, KU, vs. Aiello, 2-6, 2-1 (unfinished)
Cardona, KU, vs. Kyra Wojcik, 6-0, 3-0 (unfinished)