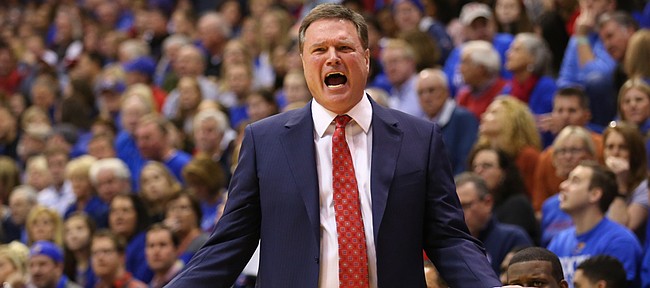 Fake outrage rages louder than ever in sports, so let me share some phony fury with you. Pretend all the letters are upper case, so you can hear me shout.
I am beside myself that Kansas University basketball coach Bill Self used a slang word in front of the word move in sharing his thoughts during his post-game interview with his shadow, Greg Gurley, regarding Brannen Greene's dunk with two seconds remaining in Wednesday night's game. Self was talking to a friend honestly about a play that incensed him and the word slipped out on the radio. Outraged, I tell you, I am outraged. How could this happen?
Greene's virgin ears ought not ever have to hear such a word, the first definition of which on dictionary.com is, "a detective." Just thinking about such language makes me blush.
Never mind that after Wichita State bounced Kansas from the NCAA tournament last March, Greene told a friendly, respected reporter who attempted to interview him to "Get the (bleep) out of my face!"
Still, the young man is only 21. Please, let's all watch our language around him.
I could manufacture more indignation and claim I am deeply offended by a player dunking to pad his stats when the proper etiquette in today's game is to dribble out the clock. Completely beside the point. I don't control Greene's playing time, so it's irrelevant whether you, me, or the man on the moon was offended by Greene's untimely and timeless dunk. It only matters what Self thinks and he thinks it's "classless" and bad sportsmanship to rub it in. Greene knew it would infuriate his coach and he did it anyway. What's a coach supposed to do, fist-bump him and tell him, "Nice move, B.G., let me light your victory cigar for you."
No need to fake anything when voicing this disappointment: Greene's a blast to watch play basketball but just can't seem to figure out how to get out of his own way, which limits the time we can see him rise up and swish another three.