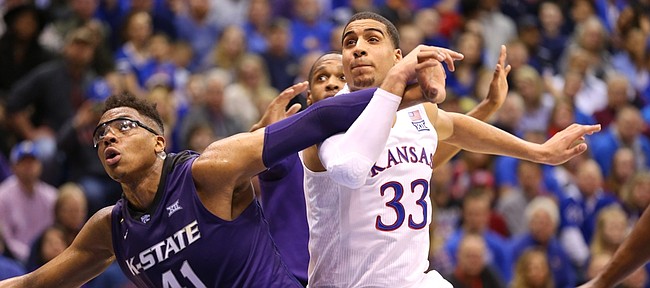 Kansas University's basketball team had more assists, steals, blocks and shot a greater percentage from both the field and the free throw line, while committing fewer turnovers than rival Kansas State in Wednesday's 77-59 victory in Allen Fieldhouse.
Yet the Wildcats' dominance in one category — rebounding — prevented coach Bill Self from enjoying his squad's 18th victory in 22 tries and sixth Big 12 victory in nine outings.
Kansas State dominated the glass, 36-21.
KU's previous low rebound total this season was 31 three times — in wins over Harvard and Holy Cross and a loss to Oklahoma State.
"I hope so. We've usually been pretty good," Self said Thursday, asked if it was just one off night in a long season. "Obviously K-State was more aggressive and quicker and definitely more competitive for 50/50 balls. Our big guys didn't do anything to play physical, but our guards didn't help them either. It was a total team lack of effort rebounding."
KU has been outrebounded just five times all season — in losses to Michigan State, West Virginia and Oklahoma State and wins over Harvard and San Diego State.
"We outrebound Kentucky by 11 (in Saturday's 90-84 overtime win) then get outrebounded by 15. Obviously K-State was just better than us on the glass. We weren't as turned up as we should be," Self said.
"It's something we've got to address and keep working on and understand why certain things happen. There's always stuff for us to work on. That was an obvious weakness last night," he added.
Landen Lucas led KU with six boards in 25 minutes. Perry Ellis had five and Jamari Traylor four. K-State's Stephen Hurt had 11 boards, Justin Edwards six and Wesley Iwundu five.
"Once again our 3-man gets no rebounds and doesn't do anything from a physical standpoint to create anything. Our bigs didn't rebound. It's frustrating. The best rebounders are the ones who want the ball. We didn't go after the ball tough at all," Self said.
Self doesn't suspend Greene: The only thing that bothered Self more than rebounding Wednesday was Brannen Greene's unsportsmanlike behavior at the end of the game. Greene finished a meaningless dunk with time still on the clock as players for both teams were walking over to the hand-shake line.
"We handled it in-house," Self said Thursday, indicating Greene, "was not suspended or anything."
Mickelson update: KU senior forward Hunter Mickelson, who has not played in the last four games, remains hobbled by a high ankle sprain.
"He practiced today. We only went 45 minutes. He did go some but he is not 100 percent," Self said.
Time to get fired up: KU sophomore guard Devonté Graham said he hopes the Jayhawks have finally learned a lesson about bringing energy from the opening tip. K-State led by nine points midway through the first half.
"I don't know the reason behind that," Graham said of slow starts. We can't do that. We've got to come out and understand everybody is coming at our heads. We are a target. We've got to start playing like it."