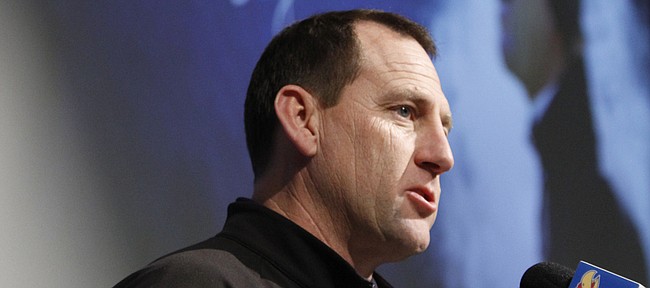 David Beaty's second recruiting class as Kansas University football coach might have been a few bodies light, but what it lacked in numbers, Beaty made up for in enthusiasm.
Go figure.
Breaking it down
Breaking down the 2016 class
Total signees: 17
High school players: 14
Junior college players: 3
From Texas: 10
From Kansas 2
From Oklahoma: 2
Florida, Louisiana, California: 1 each
Defensive backs: 6
Offensive linemen: 4
Wide receivers: 1
Defensive linemen: 3
Running backs: 1
Quarterbacks: 1
Linebackers: 1
Introducing his second crop of future Jayhawks in his 14 months on the job, Beaty spoke with enthusiasm about each of the 17 scholarship players and three walk-ons who make up the 2016 recruiting class, with aspects such as speed, character, toughness and potential emerging as common themes among the group.
"We're trying to improve that overall team profile where we actually match the league in terms of the way we look, in terms of the way we present ourselves from a height and weight standpoint and strength standpoint," Beaty began. "The better you get talent-wise, the better you get as a team. We control that by going out and finding the right guys."
Just how well KU did in identifying those players and improving that talent likely won't be known for a least a couple of years. But one indicator that led Beaty to believe his staff was on the right track popped up a couple of times during the recruitment of the 2016 class.
Take KU's pursuit of offensive lineman Antione Frazier, for example. Frazier, a 6-foot-5, 250-pound tackle from Hargrave High in Huffman, Texas, orally committed to Kansas almost a year ago. And in the 12 months since saying yes to the Jayhawks, more than a dozen schools tested the waters to see if he would be more interested in their programs.
"He stayed with us," Beaty said of Frazier, one of five offensive linemen introduced Wednesday. "Just like a lot of people in this class, (he) stayed with us even though at the very end Baylor, and a bunch of other teams around the state, were coming after this guy."
Beaty said Frazier played a huge role in helping keep the class committed to Kansas, and his confidence in the KU program and coaching staff paid dividends as recently as last week with fellow commitment Ian Peterson, a defensive back from Round Rock, Texas.
"I know there were a bunch of Big 12 teams that were calling him as he was on his way up here to our visit last week," Beaty said. "He held strong with us — another guy in this class that I'm very proud of. That's how we know we're on the right guys. They all had opportunities to go to other places. They see the vision. They want to be a part of it together."
On paper, KU's 2016 class will not wow anybody. Because the Jayhawks counted eight players from last year's roster forward to the 2016 class, Beaty was able to sign just 17 new faces. And while he filled needs with most of those spots and took chances at a couple of others — plucking athletes who were coming off of injury or players he deemed underrated — the overall package produced a class that ranked 87th nationally, according to Rivals.com, and just slightly higher, in 82nd place, according to 247Sports.com.
Both rankings put KU football last in the Big 12 — Kansas State was the next closest at 74th and 68th — a position with which the Jayhawks have plenty of familiarity.
So the question that must be answered now is not which of these players will blow up and elevate the Jayhawks out of the cellar. The question is, are these the types of players whom Beaty and his staff can coach up to start the climb?
"We've got to be able to develop people," Beaty said. "We were looking for tough, athletic guys, guys that fit the Kansas way. We said that last year at this time. We echo the same thing this year. Things have not changed. The plan will remain the same. The goal is still in place."
KU football 2016 recruiting class
DB Shola Ayinde^ – 6-0, 168, 2 stars, George Ranch High, Richmond, Texas
DE Isaiah Bean – 6-4, 210, 2 stars, Summer Creek High, Houston, Texas
WR Keegan Brewer* – 5-11, 175, 2 stars, Lake Dallas High, Corinth, Texas
DB Julian Chandler – 6-0, 170, 3 stars, Hightower (Texas) High
DT DeeIsaac Davis# – 6-3, 290, 2 stars, Highland Community College
OL Cam Durley^ – 6-6, 275, 2 stars, Houston Christian High, Houston, Texas
WR Evan Fairs – 6-3, 182, 2 stars, Foster High, Richmond, Texas
OL Antione Frazier – 6-5, 250, 2 stars, Hargrave High, Huffman, Texas
QB Dagan Haehn* – 6-2, 210, 2 stars, Lake Dallas High, Corinth, Texas
OL Hunter Harris — 6-2, 257, 2 stars, Aledo (Texas) High
RB Khalil Herbert – 5-10, 190, 2 stars, Heritage High, Plantation, Florida
DT Isi Holani# – 6-3, 300, 3 stars, Riverside (Calif.) Community College
OL Chris Hughes – 6-5, 260, 3 stars, Harker Heights (Texas) High
OL Lucas Jacobs* – 6-2, 295, 2 stars, Cabell Midland High, Huntington, West Virginia
LB Maciah Long – 6-2, 240, 3 stars, North Shore High, Houston, Texas
CB Kyle Mayberry – 5-11, 163, 3 stars, Booker T. Washington High, Tulsa, Oklahoma
DB Ian Peterson – 5-11, 180, 2 stars, Cedar Ridge High, Round Rock, Texas
DB Stephan Robinson# – 5-11, 173, 2 stars, Northeast Oklahoma A&M; Junior College
QB Tyriek Starks – 6-2, 188, 2 stars, Warren Easton High, New Orleans
S Bryce Torneden – 5-10, 185, 2 stars, Free State High, Lawrence, Kansas
*denotes walk-on; # denotes mid-year transfer already on campus; ^ denotes originally a member of KU's 2015 class