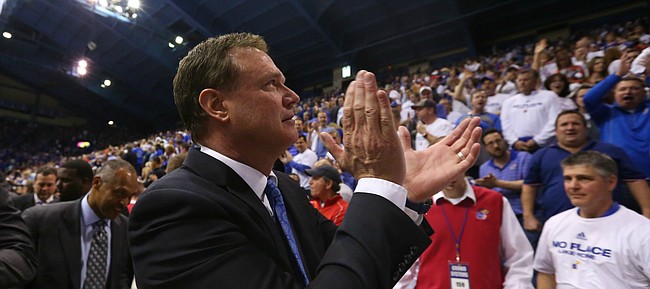 Kansas University basketball coach Bill Self, who has one scholarship player and three walk-ons from the state of Kansas on his 2015-16 roster, makes sure his out-of-state Jayhawks know the history of the Sunflower Showdown.
"We've got three guys that weren't here last year," Self said of freshmen Carlton Bragg, Cheick Diallo and Lagerald Vick. "That's only three. They'll be educated. We'll look forward to playing," he added, referring to today's 8 p.m., contest against Kansas State in Allen Fieldhouse.
KU, the record books show, has definitely dominated the series.
The Jayhawks, who are 188-93 all time — 23-5 versus KSU in the 13-year Self era — have won 49 of the last 54 meetings and nine straight in Allen.
"I think the K-State game has increased significance obviously since Missouri is not in our league. It's an important game to a lot of folks. We know it's a big game to people in the state. We talked about that today," Self said Monday.
His No. 7-ranked Jayhawks take a 17-4, 5-3 record into the game compared to unranked KSU's 13-8, 2-6 mark.
"Those teams are ones that can beat anybody on a given night," KU sophomore guard Devonté Graham said. "We've got to keep pushing. We have to play like it was the Kentucky game (Saturday's 90-84 overtime win in Allen). We've got to work just as hard. You can't take any teams lightly. We've got to come out and do what we do."
K-State coach Bruce Weber — his teams are 0-3 in Allen and 2-6 overall versus KU — knows it's a tough task to try to beat a Jayhawks team that has won 35 straight home games and 147 of the last 150.
"Well, there haven't been many teams who have been successful in there (Allen) except Kansas. They play at such a high level at home. They have such a great crowd there and they feed off that crowd," said Weber, whose 'Cats have won two straight over Kansas in Manhattan.
"Everyone plays better at home, but they take it to another level. The beginning of the game is really important. You can't turn it over and let them get easy baskets. You have to make them earn some things. You have to survive their runs. They are going to have their runs just like anyone does at home," Weber added.
The 'Cats, who are coming off Saturday's 69-64 home victory over Mississippi in the Big 12/SEC Challenge, will likely be without freshman point guard Kamau Stokes tonight. He suffered a knee injury while playing just eight minutes against Ole Miss.
"It will be point guard by committee," Weber said. "Wes (Iwundu, 6-7 junior) has played some point as has Barry (Brown, 6-3 freshman). Carlbe (Ervin II, 6-3 junior) is going to play. I'm not sure he can play 35 minutes.
"The good thing is that we have had a lot of different people bring the ball up this year, so we have some options."
Ervin last season was a first-team juco All-American at Connors State College.
"I think it was great for him to play well the other day against Ole Miss," Weber said.
"Kamau (Stokes) only played eight minutes so he virtually played the entire game and played well. He led us on the 'Play-Hard Chart' and made some plays. However, it is an entirely different experience playing at Kansas, so he will have to adjust. You just have to play hard and compete and good things will happen. Our team can't try to do too much. We just have to make simple basketball plays."
Self said the Jayhawks face a challenge trying to attack Kansas State's defense.
The Wildcats, who have led the Big 12 in scoring defense two of the past three seasons (60.4 ppg in 2012-13 and 65.4 ppg in 13-14), currently rank third in the conference in fewest points allowed (66.8).
"Bruce has always gotten his teams to guard," Self said. "Whatever their conference record is (2-6), it could be flipped. They lost to West Virginia in two overtimes (87-83).
"The lost at Texas by a basket (60-57). At Oklahoma, they play well and end up losing by 10 (86-76). At Baylor they lose in two overtimes (79-72). They've been right there. They are fast on the perimeter, young and really guard."
Mickelson practices some: KU senior forward Hunter Mickelson practiced some on Tuesday and is listed questionable for tonight.
This, that: Weber is 75-46 in his fourth season at Kansas State and 388-201 in his 18th season overall. ... Kansas State is 11-2 at home, 1-5 on the road and 1-1 on neutral courts. ... Iwundu leads KSU in scoring at 12.2 points per game. Edwards scores 11.9 points per contest. Freshman F Dean Wade leads K-State in rebounding at 5.9 per game. ...KU is 739-109 all-time in Allen Fieldhouse.
Probable Starters
KANSAS STATE (13-8, 2-6)
F — Stephen Hurt (6-11, Sr.)
F — Wesley Iwundu (6-7, Jr.)
F — Dean Wade (6-8, Fr.)
G — Carlbe Ervin (6-3, Jr.)
G — Justin Edwards (6-4, Sr.)
KANSAS (17-4, 5-3)
F — Perry Ellis (6-8, Sr.)
F — Landen Lucas (6-10, Fr.)
G — Frank Mason III (5-11, Jr.)
G — Wayne Selden Jr. (6-5, Jr.)
G — Devonté Graham (6-2, Soph.)
Tipoff: 8 p.m. today, Allen Fieldhouse.
TV: ESPN2 (WOW! channels 34, 234).
Rosters
KANSAS STATE
1 — Carlbe Ervin II, 6-3, 205, Jr., G, Oklahoma City.
3 — Kamau Stokes, 5-10, 170, Fr., G, Baltimore.
4 — D.J. Johnson, 6-9, 250, Jr., F, St. Louis.
5 — Barry Brown, 6-3, 195, Fr., G, Saint Petersburg, Fla.
10 — Isaiah Maurice, 6-9, 225, Fr., F, Durham, N.C.
12 — Mason Schoen, 6-3, 185, Soph., G, Overland Park.
13 — Zach Winter, 6-3, 210, Jr., G, Andover.
15 — Dante Williams, 7-0, 255, Fr., F, Arlington, Texas.
23 — Ron Freeman, 6-5, 185, Fr., G, Los Angeles.
24 — Pierson McAtee, 6-6, 190, Fr., F, Manhattan.
25 — Wesley Iwundu, 6-7, 210, Jr., F, Houston.
32 — Dean Wade, 6-8, 225, Fr., F, Saint John.
33 — Brian Rohleder, 6-3, 215, Sr., G, Wichita.
35 — Austin Budke, 6-6, 220, Jr., F, Beloit.
41 — Stephen Hurt, 6-11, 265, Sr., F, Murfreesboro, Tenn.
Head coach: Bruce Weber. Assistants: Chris Lowery, Alvin Brooks III, Chester Frazier.
KANSAS
0 — Frank Mason III, 5-11, 185, Jr., G, Petersburg, Virginia.
1 — Wayne Selden, Jr., 6-5, 230, Jr., G, Roxbury, Massachusetts.
2 — Lagerald Vick, 6-5, 175, Fr., G, Memphis.
4 — Devonté Graham, 6-2, 175, Soph., G, Raleigh, North Carolina.
5 — Evan Manning, 6-3, 170, Sr., G, Lawrence.
10 — Sviatoslav Mykhailiuk, 6-8, 195, Soph., G, Cherkasy, Ukraine.
11 — Tyler Self, 6-2, 165, Jr., G, Lawrence.
13 — Cheick Diallo, 6-9, 220, Fr., F, Kayes, Mali, Africa.
14 — Brannen Greene, 6-7, 215, Jr., G, Juliette, Georgia.
15 — Carlton Bragg, Jr., 6-9, 220, Fr., F, Cleveland.
21 — Clay Young, 6-5, 205, Soph., F, Lansing.
22 — Dwight Coleby, 6-9, 240, Jr., F, Nassau, Bahamas.
31 — Jamari Traylor, 6-8, 220, Sr., F, Chicago.
33 — Landen Lucas, 6-10, 240, Jr., F, Portland, Oregon.
34 — Perry Ellis, 6-8, 225, Sr., F, Wichita.
42 — Hunter Mickelson, 6-10, 245, Sr., F, Jonesboro, Arkansas.
Head coach: Bill Self. Assistants: Kurtis Townsend, Norm Roberts, Jerrance Howard.