Kansas State coach Bruce Weber told himself before Wednesday's Sunflower Showdown at Allen Fieldhouse that he was not going to let the calls by the officials get him barking from the sideline.
And, for the most part, the fourth-year K-State coach avoided any outbursts during a 77-59 loss to No. 7 Kansas, which both Weber and a couple of his players said they thought was much closer than the final score indicated.
But Weber's success biting his tongue on the floor ran out in the fieldhouse media room after the game and the KSU coach on multiple occasions at least mentioned concerns about the officiating.
"I told myself, you come here, you (can't) get mad," Weber said. "I tried to keep my poise, and, for 16 minutes, I didn't say a word to 'em. But I've gotta keep my kids from getting frustrated."
Photo Gallery
Kansas basketball v. Kansas State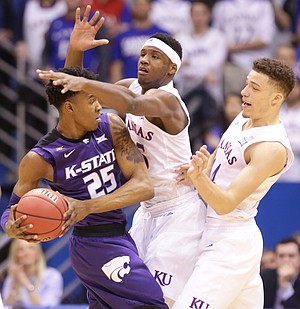 View a gallery of images from Wednesday night's Sunflower Showdown between the Jayhawks and Wildcats at Allen Fieldhouse.
Weber's frustration about the officiating — K-State was called for 27 fouls compared to 18 for Kansas (18-4 overall, 6-3 Big 12) — took into account the entire game. But there was a specific stretch that seemed to really set him off.
"I thought there were crucial calls at the end of the (first) half," Weber said. "The charge/block with (Brian) Rohleder, the block on D.J. (Johnson) and then the out of bounds play. Those are crucial calls."
And they led to K-State (13-9, 2-7) being down by 10 at halftime after a first half which they controlled most of the way.
A few moments after first mentioning the officiating, a reporter asked Weber about not getting the calls at the end of the first half.
"Really," the coach interjected. "...Complain about the refs, I could do it all night; but you can't do anything. You gotta be better than them on the road."
K-State guard Wesley Iwundu agreed with his coach and said he tried his best to keep his teammates' minds on the Jayhawks and not the whistles.
"It's a road game," Iwundu said. "That's what's expected. I just tried to tell guys to keep your head, keep your composure, because we're not getting calls on the road, especially at Allen Fieldhouse. It's a tough place to play."
There were, of course, plenty of factors Weber could point to that tipped the game Kansas' way. And he did. Most notable among them was the play of KU senior Perry Ellis, who led all scorers with 19 points on 8-of-11 shooting.
"And I thought we did a decent job on him," Weber lamented. "We want to go to his and (Iowa State forward Georges) Niang's graduations. Because we'll be happy when they're out of the league and we don't have to face 'em anymore."
— See what people were saying about the Sunflower Showdown during KUsports.com's live coverage.
---
More news and notes from Kansas vs. Kansas State
---
---
---