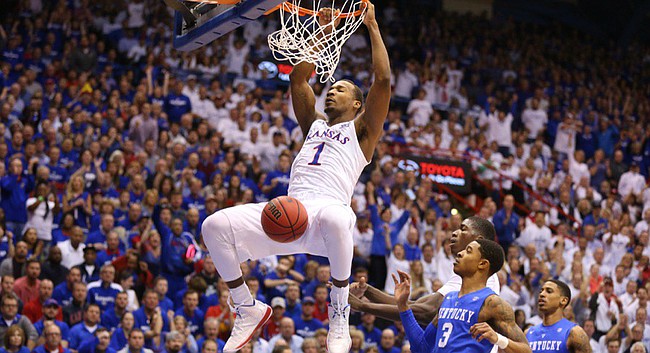 Kansas University now has the longest run of appearances in the Associated Press Top 25 men's basketball poll after Duke fell out for the first time in more than eight years.
The Jayhawks (17-4) fell from No. 4 to No. 7 in the poll that was released Monday.
Duke (15-6) has lost four of its last five, including home games with Notre Dame and Syracuse. Last week's loss to Miami knocked them out from 24th, ending a run of 167 consecutive appearances in the men's poll. It is the first time since the preseason poll of 2007-08 that the Blue Devils are not ranked.
The Blue Devils still had a ways to go to catch UCLA, which put together a run of 221 consecutive polls from 1966-80. Kansas now has the longest run, 136 polls that began on Feb. 3, 2009, with Arizona next at 72 consecutive polls.
---
Staying power
Oklahoma starts its third week at No. 1, one week short of matching the longest stretch on top this season.
Michigan State held the No. 1 spot for four weeks. The other No. 1 teams this season were all there for two weeks: North Carolina, Kentucky and Kansas.
Oklahoma has been No. 1 for a total of eight weeks, tying the Sooners with St. John's and West Virginia for 27th place on the all-time list. UCLA is No. 1 among the No. 1s with 134 weeks.
---
Top 25
Oklahoma (18-2)
North Carolina (19-2)
Villanova (18-3)
Maryland (19-3)
Iowa (17-4)
Xavier (19-2)
Kansas (17-4)
Texas A&M; (18-3)
Virginia (17-4)
Michigan St. (19-4)
Providence (18-4)
SMU (19-1)
Iowa St. (16-5)
West Virginia (17-4)
Baylor (17-4)
Oregon (18-4)
Miami (16-4)
Purdue (19-4)
Louisville (17-4)
Kentucky (16-5)
Wichita St. (16-5)
Indiana (18-4)
Arizona (17-5)
Dayton (18-3)
South Carolina (19-2)
Others receiving votes: Saint Mary's (Cal) 63, Southern Cal 40, Utah 33, VCU 33, Michigan 21, Notre Dame 21, Valparaiso 7, Duke 6, Pittsburgh 4, Florida 3, Saint Joseph's 1, San Diego St. 1, Stony Brook 1, Texas 1.