Fort Worth, Texas — Fort Worth has never been confused for Honolulu, but, in the eyes of Kansas freshman Josh Jackson, they might as well be the same city.
For the first time since struggling mightily in the Jayhawks' season-opening loss to Indiana in Hawaii, Kansas freshman Josh Jackson battled foul trouble and his emotions during the Jayhawks' 86-80 victory over TCU on Friday at Schollmaier Arena in the Big 12 opener for both teams.
After picking up two first-half fouls and playing just eight minutes in the opening half, Jackson was whistled for his third foul on an over-the-back call, 1:54 into the second half. From there, KU's second-leading scorer, who finished with just four points on 2-of-8 shooting in 12 minutes, earned his fourth foul without a second ticking off the clock. It came when Jackson reacted with frustrated to foul No. 3 and slammed the ball down onto the floor after the whistle blew.
"Just didn't play smart, I think," Kansas head coach Bill Self said of Jackson. "Frustrated not playing well and then didn't play very smart."
Photo Gallery
Kansas basketball v. TCU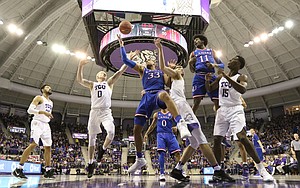 View a gallery of images from Friday night's game between the Jayhawks and Horned Frogs in Fort Worth, Texas.
As for the technical, Self said he hoped the momentary loss of control was the last for his talented freshman.
"I didn't really see it, so he may have deserved it, he may have not," Self said. "From what I was told, he probably did. But the whole thing is, he put himself in that position. You've gotta put the team first and, in that moment, he lost his composure and didn't. He's gotta learn. This is the second time that's happened this year."
Free throws finally free
Entering the game shooting 59 percent from the free throw line, Kansas knocked down 20 of 25 in the six-point victory, good for 80 percent and a much-needed break from their struggles at the line.
"It's good," Self said of his team's night at the charity stripe. "The guys that really haven't shot 'em well for us, they didn't attempt any tonight."
Senior guard Frank Mason III led the way by hitting 9 of 10 and Devonté Graham and Lagerald Vick each made all four they attempted.
Senior forward Landen Lucas, who uncharacteristically made just 1 of 3, said seeing the free throws fall was a huge relief.
"It was good," he said, sounding eerily similar to Self. "It's something we have been working on in practice and we know we've gotta get better at it."
Vick returns
Playing against his former AAU teammate, TCU guard Jaylen Fisher, Kansas sophomore Lagerald Vick scored 17 points on 5-of-11 shooting in 34 minutes to help Kansas pull out Friday's road victory.
Vick's hot night, which included a dozen points in 16 first-half minutes, was the first of its kind in nearly a month for the one-time starter, who entered Friday night having scored just 21 points in his previous four games combined.
"He's been laboring a little bit," Self said. "And, yeah, I think he was due."
Added Vick, when asked if he needed a strong showing to get his confidence back: "Yeah, definitely. It helped me get another rhythm going for the rest of the season."
As for his showdown with Fisher, Vick smiled when asked about it but said it was not in either player's nature to talk too much trash.
"No, not really," he said. "We said 'what's up' a couple plays but not too much."
Faces in the crowd
While having basketball players at their home matches was a regular occurrence, a couple of Kansas volleyball players made the short drive from their hometowns to root on the Kansas basketball team.
All-Americans Ainise Havili, whose family lives 15 minutes from TCU's campus, and Kelsie Payne, who grew up in Austin, were in attendance, wearing their crimson and blue and standing up and cheering for their friends on the floor.
This and that...
Friday's victory pushed the Jayhawks' edge in the TCU series to 13-1, including a 9-1 mark as members of the Big 12 and a 5-1 mark in Fort Worth.... KU improved to 12-1 for the second year in a row and sixth time in the Bill Self era.... Kansas is now 6-1 this season in games played outside of Allen Fieldhouse.
https://www.youtube.com/watch?v=VPUIQN-L-dU
https://www.youtube.com/watch?v=PBC3g6IMMAg
— See what people were saying about the game during KUsports.com's live coverage.
---
More news and notes from Kansas vs. TCU
---