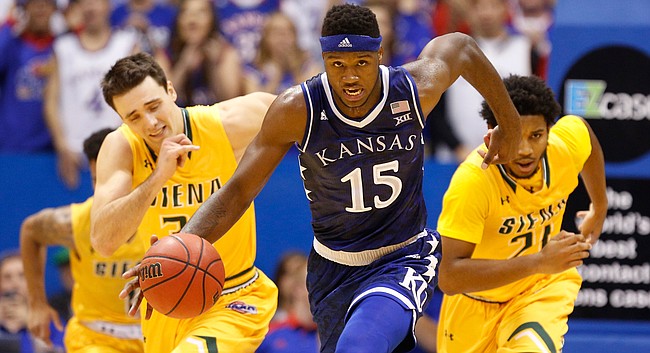 No. 3 Kansas Jayhawks (11-1) vs. TCU Horned Frogs (11-1)
Time: 8 p.m. | Location: Schollmaier Arena, Fort Worth, Texas
TV: ESPN2 | Radio: IMG Jayhawk Radio Network
Log on to KUsports.com for our live game blog coverage and follow the KUsports.com staff on Twitter: @KUSports @mctait @TomKeeganLJW @bentonasmith & @nightengalejr
Keys for Kansas
1. Set the tone
After an 11-1 start to the Jamie Dixon era, the basketball buzz around Fort Worth is extremely high and welcoming third-ranked Kansas to town for the conference opener only figures to elevate the excitement.
That makes it incredibly important for the Jayhawks to get off to a fast start in this one to eliminate any hopes by the home crowd of seeing the Frogs pull off the upset.
While setting the tone with a fast start will increase the Jayhawks' chances at victory in this one, it also will go a long way toward kicking off their chase for consecutive conference title No. 13 on the right foot.
Winning a conference opener is a good thing for any team. But doing it on the road, especially in the Big 12, makes it that much better.
With a win against TCU, KU would extend its conference opener winning streak to 26 games, a streak that dates back to the 1990-91 season. The most remarkable part about that streak is the fact that 15 of those 25 wins came on the road, a place the Jayhawks don't mind playing at all.
"I think it's gonna to be fun," said KU junior Devonte' Graham. "We just came from UNLV and got our first road win and now it's gonna be an even better environment. I know a lot of Jayhawk fans travel there, so it's gonna be fun."
2. Hit the boards
The Horned Frogs feature five players who average 4 rebounds per game or more, including 6-foot-7, 210-pound guard Kenrich Williams, who leads the Big 12 with an average of 10 rebounds per game. Williams is the only player in the conference averaging a double-double through the season's first 12 games.
Even with that, TCU still is only pulling down 38 rebounds per game — seven more than its opponents — while Kansas is averaging 41.2 rebounds per game, also seven more than its opponents.
If there's one area where one team has a slight rebounding edge, it's on the offensive glass, where TCU, led by 40 in 12 games from Williams, has pulled down more rebounds that led to extra possessions than the Jayhawks.
With their big men struggling out of the gate, rebounding has been a major emphasis for the Jayhawks so far this season. And even though senior Landen Lucas and sophomore Carlton Bragg Jr. combined for 34 rebounds during the last two games, the Jayhawks still want their long, athletic guards to chip in to help KU win the battle on the boards.
3. Finish
Kansas coach Bill Self said on Wednesday that his team has a tendency to play to the score instead of playing to knock teams out.
That was the case last week in Las Vegas, where the Jayhawks built a 22-point halftime lead and watched the Rebels trim it to as little as 12 in the second half through Kansas taking its foot off the gas and playing poorly during the final 20 minutes.
Those types of lapses will cost Kansas in the Big 12 race, where the Jayhawks take everybody's best shot just about every night and rarely find any room to relax, even at home.
"The great teams, they put the foot on the throat," Self said. "And we've certainly gotta get better at that."
Because of that, along with the extra rest that came during the holiday break, Self believes his team is more than ready to kick off the conference schedule Friday night at TCU.
"I don't know that you're ever as prepared as you want to be, but I feel like guys will be ready to play," he said. "I think we've had a good three practices since we've been back. Guys seem to be in good spirits and they know the intensity and everything is gonna go up a notch or two beginning Friday."
Mega Matchup
KU point guard Frank Mason III vs. TCU point guard Alex Robinson
Although Mason is averaging nine points more per game than the TCU sophomore, this match-up pits two players who lead their respective teams in both scoring and assists against one another. It also marks a meeting of two of the Top 3 assist men in the Big 12 Conference, as Mason leads the league with 5.8 assists per game and Robinson sits in third place at 5.5 assists per game. The 5-foot-11 Mason gives up a couple of inches to the 6-1 Robinson but also has a 10-pound weight advantage (190-180), which should aid Mason's relentless desire to get by his man and get to the basket. Robinson, who was ranked No. 47 overall in the 2014 recruiting class, began his career at Texas A&M;, where he averaged 18.8 minutes in 32 games during the 2014-15 season. After sitting out last season following his transfer to his hometown team, Robinson is averaging a team-high 28.9 minutes per game in four starts so far this season.
Jayhawk Pulse
Winners of 11 consecutive games since the season-opening loss to Indiana in Honolulu, the third-ranked Kansas men's basketball team enters Big 12 play on a roll but with more than a couple of questions.
Carried largely by their stellar backcourt, which is led by the three-headed monster of Frank Mason III, Devonte' Graham and Josh Jackson, the Jayhawks are still in the infant stages of life with limited front court depth.
Their Big 12 opener will be just their second game this season without the services of 7-foot freshman Udoka Azubuike. And although the Jayhawks passed their first test without the mammoth freshman, it remains to be seen when and how his absence and the lack of proven bodies down low will impact this Kansas team.
Self said senior Landen Lucas and junior Sviatoslav Mykhailiuk will continue to start, leaving sophomores Lagerald Vick and Carlton Bragg Jr., along with freshman Mitch Lightfoot and junior Dwight Coleby, as the main contributors off the bench.
As if the Big 12 portion of the schedule does not bring with it enough intrigue, Kansas still will be looking for answers to the following questions as conference play heats up: Will Bragg find his rhythm and live up to the expectations many had for him at the start of the season? Can Lightfoot develop and be counted on as this team's third big man? Will the Jayhawks continue to shoot lights out from behind the arc? And can Mason and Jackson continue the red-hot pace they opened the season with while programs with talented veterans and a better understanding of what the Jayhawks are all about take their best shots?
We won't get answers to all of those questions in this one. But we might begin building a better understanding of what those answers will be and when they will come.
Probable Starters
No. 3 Kansas
G – Frank Mason III, 5-11, 190, Sr.
G – Devonte' Graham, 6-2, 185, Jr.
G – Josh Jackson, 6-8, 207, Fr.
G – Sviatoslav Mykhailiuk, 6-8, 205, Jr.
F – Landen Lucas, 6-10, 250, Sr.
TCU
G – Alex Robinson, 6-1, 180, Soph.
G – Jaylen Fisher, 6-2, 195, Fr.
G – Kenrich Williams, 6-7, 210, Jr.
F – JD Miller, 6-8, 235, Soph.
F – Vlad Brodziansky, 6-11, 220, Jr.