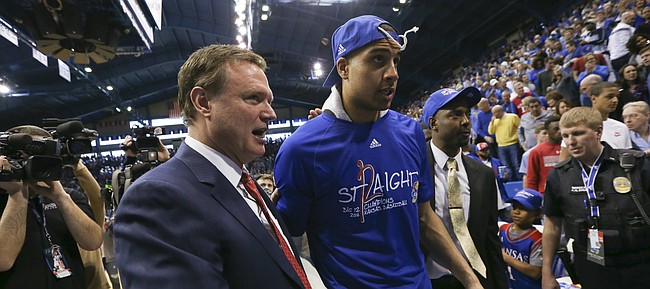 With the Big 12 portion of the Kansas basketball schedule slated to tip off Friday night in Fort Worth, Texas, all of that offseason and preseason talk about the Jayhawks gunning to tie UCLA's record of 13 consecutive conference titles starts to mean something.
Not because Kansas coach Bill Self and his players will discuss it every day, at every practice and before every game.
They won't. But the successes and failures that the third-ranked Jayhawks (11-1) experience from here on out will have a direct impact on their pursuit of UCLA's record in a conference that, at least on paper, looks a lot more impressive than it did at the beginning of the 2016-17 season.
"Kansas was and remains the Big 12 title favorite forever and ever, amen," recently wrote ESPN.com's Eamonn Brennan. "But this was the first preseason in ages when the Jayhawks didn't appear to have at least one obvious usurper in their midst. Instead, Baylor's surprise rise and Bob Huggins' routine West Virginia brilliance have presented KU with two."
Those two programs, ranked fourth and 11th respectively at 12-0 and 11-1, were the Big 12's two other most impressive teams during the season's first three months. But they have been far from alone in getting off to a strong start.
Every Big 12 program currently sits above .500. Seven Big 12 teams enter conference play with 10 wins or more — including KU's Friday night opponent, 11-1 TCU — and those seven teams have combined for just seven losses between them.
Self did not need to know those numbers to understand that the 18-game conference grind that begins at 8 p.m. Friday in Fort Worth, Texas, and ends March 4 in Stillwater, Oklahoma, will provide his team tough test after tough test, night in and night out. He's seen it too many times before and always has shown a great deal of respect for the talent and coaching in the Big 12, regardless of what people across the country are saying about them.
"It's a unique league and sometimes the best leagues are top heavy and bottom heavy," said Self, noting that many conferences often have a few great teams and a few overmatched teams. "This one, you get top heavy and there's no bottom heavy so it makes it hard."
Finding a way to win each night, at home and on the road, while improving and coming together at the same time, is the challenge Self and his players are focusing on today, not the big picture of tying UCLA's record. And Self believes that emphasis will help prevent his players from becoming overwhelmed by the historical significance of what the next couple of months could deliver.
"I haven't really thought about it as much as you probably would think," Self said. "It's crossed my mind. I'm not gonna lie. But I don't want to get hung up on that. I just want to get hung up on coaching this team and having this team be as good as it can be and having this team compete for its first championship as opposed to them thinking that they have to do something. I don't want them to think like that. If that's the way they think, then they're gonna play under pressure all year long and I want them to play with a freer mind. It may bring a little pressure, but I also think it brings a lot of pride and a lot of motivation."
"There's some dog days in our league," Self continued. "But I think when you have that carrot out there and the motivation that you could do something pretty special if everybody stays focused and fights through it, I think that'll definitely help (us) get through some tough times."
Holiday clinic
The KU men's basketball team hosted its annual holiday clinic for children on Tuesday, drawing attendance from more than 550 first through sixth graders from around the area, who worked with the current players, coaches and staff members on the fundamentals of the game and participated in some fun and entertaining drills and contests while their parents watched from the Allen Fieldhouse bleachers above.
The one-day clinic wrapped with an autograph session and left many, young and old, leaving Allen Fieldhouse with huge smiles.
"It's fun every year," said Kansas assistant coach Norm Roberts, who spoke with the media in place of KU coach Bill Self, who was unable to participate because he was under the weather. "It's a fun time for our guys to get out and get engaged. The kids are coming off the holiday, so they are excited. It's a great time for everybody. We want our players to be out there and engaged. In reality, the coaches don't run this clinic, our players do."
Jackson honored
Kansas freshman Josh Jackson on Tuesday added a new accolade to his growing list when he was named the Big 12 Player of the Week.
Jackson, who scored 21 points on 9-of-16 shooting and added nine rebounds and two blocks in KU's win over UNLV last Thursday, became the first Kansas player since Ben McLemore in 2012-13 to win Big 12 player and newcomer of the week honors in the same season.
Jackson joins senior guard Frank Mason III in receiving Big 12 Player of the Week honors this season. Mason already has earned the honor twice (Nov. 16 and Dec. 12).