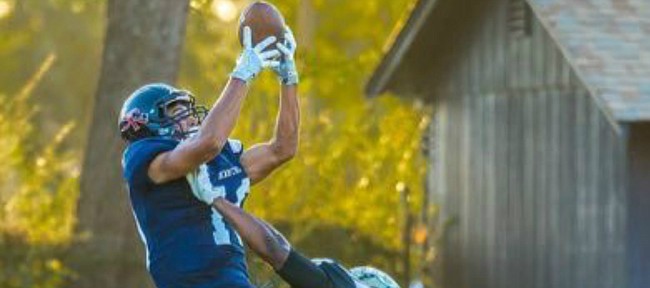 Before Rob Likens abstracted himself from the Kansas football program to become the receivers coach at Arizona State, the former KU offensive coordinator might have left the Jayhawks with a significant parting gift.
It was Likens, head coach David Beaty pointed out, who recruited mid-year Class of 2017 signee Kerr Johnson, a receiver from Santa Rosa Junior College, in California.
While Johnson didn't emerge publicly as a prospect in which KU had interest until the day before the receiver signed earlier this month, Beaty said Likens and the Jayhawks wanted to keep his recruitment "under wraps" — implying the coaches didn't want another program to go after their target — because Johnson was the exact type of offensive player they wanted to add.
While observing Johnson's in-game ability from afar, via video highlights of his 50-catch sophomore season at SRJC that included 894 receiving yards and 11 touchdowns, Beaty said the staff saw a speedy receiver who could help KU's Air Raid offense.
"He was the guy that we were looking for," the Jayhawks' head coach and offensive coordinator said.
Upon hearing that, Johnson felt even more fired up about getting to Lawrence in January.
"It's pretty exciting," Johnson said in an interview with the Journal-World. "It makes me feel like I can come in and have an impact on the team."
Listed at 5-foot-11 and 180 pounds, Beaty said Johnson has arms that look like they should be part of a 6-foot-4 frame. Johnson said he wasn't sure about his exact wingspan measurements.
"The way I see it is it's pretty hard to overthrow me," he said while discussing his long arms, "so when I fully extend that just adds more range to my catch radius."
While Beaty liked Johnson's ability to gather in throws that might be a little off target, it was what the receiver can do after the catch — run — that excited him most.
"This guy, you go back and watch his highlight tape and watch him pull away from guys," Beaty said of Johnson, "watch him run in vertical balls and being able to stiff-arm a guy while he's still moving forward, and watch how he splits defenders."
The junior-to-be agreed, suggesting his speed is the biggest strength he can bring to the Kansas offense.
"I can spread out a defense as a deep threat, but I can also take a short pass all the way," Johnson said. "I make big plays and I hope to impact big games (next) season."
Regardless of who wins KU's No. 1 quarterback position — incumbent Carter Stanley, incoming transfer Peyton Bender or someone else — in 2017, Beaty wants explosive athletes hauling in passes. Steven Sims Jr., the Jayhawks' leading returning receiver (72 receptions, 859 yards, seven touchdowns during a breakout sophomore season), qualifies as that type of threat, as do LaQuvionte Gonzalez and Alabama transfer Daylon Charlot.
Beaty can picture Johnson getting involved, too, by using his versatile skill set to create yards after the catch.
"You're lookin' for guys that do that and guys that have enough speed and quickness to get open over the middle of the field," Beaty said, "and he does it time and time again on his tape."
Though a late recruiting push from Likens got Beaty's eyes on those highlights and, soon after, Kerr to join Kansas, the receiver understood the assistant coach moving on to ASU and said he was glad Likens "did what he had to do."
Now entering his third off-season as KU's head coach, Beaty hopes the little-known receiver whose other offers came from Northern Arizona and Southeastern Louisiana can develop into a contributor in his version of the Air Raid offense.
"Man, this dude flew under the radar and I'm glad he did," Beaty said of Johnson. "Man, we're lucky we got him. I'm really excited about Kerr bein' here. I think he'll be a really productive player for us."