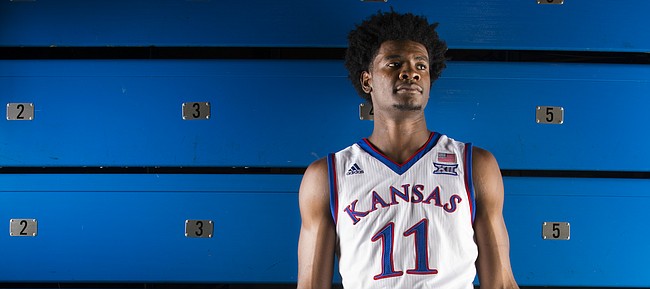 There's a chance that Kansas fans have seen all there is to see from freshman guard Josh Jackson.
But KU coach Bill Self does not believe that is the case.
"I think there's still another gear he can go, and I think he would tell you the same thing," Self said before winter break.
The mere sound and thought of such a phrase made even Self shake his head in amazement.
After all, during the first 12 starts of his college career, the 6-foot-8 Jackson, who, more than any player Self has had at Kansas, is a blend of equal parts guard and forward, ranks second on the team in scoring (15.6), leads Kansas in blocks (18), total rebounds (78), offensive rebounds (28), rebounds per game (6.5) and is in the Top 3 on the team in three other major statistical categories.
So, how then, Self asked could one expect, think or even hope that the young man actually can do more?
"I may be nuts," Self admitted. "Because if he's averaging 15 and 6 and probably the best passer on the team, (we) should probably be pretty happy with that. But I still think he can do a lot more. I really do. I think the ceiling is so high with him."
How high depends not on how hard Jackson plays but how smart he plays and how well he uses what Self and the Jayhawks do to complement his own immense talents and accentuate the strongest parts of his game.
Self pointed to Jackson's growth in KU's transition offense as an example, saying Jackson used to keep the ball too long on KU's fastbreaks but now pitches it ahead sooner to Frank Mason III, Devonte' Graham or KU's other play makers because his teammates have shown they have no problem giving it back.
"He's been really, really good and is getting more and more comfortable playing with these guys and understanding their strengths and weaknesses," said Self before summarizing the point. "... He's making the game easier for them and he's figured out that they can make it easier for him, as well."
It's fascinating to think what that type of growth over the next dozen games — and then 12 more after that — will mean for Jackson and the Jayhawks. But if it comes and if it delivers the kind of production Self believes is in the forecast for Jackson, it won't be because the result of added intensity.
"Not from an effort standpoint or a competitive standpoint," said Self, noting that Jackson is off-the-charts terrific in those areas. "I just think he could still plug himself better into what we do to allow him to put up even bigger numbers.... "I'm not talking about effort, I'm talking about aggressiveness, looking to score. I still don't think he's the offensive rebounder we think he can be. We've seen flashes of it but I think he should be the hardest guy in the country to block off the offensive glass because he gets a running start every time."
Never one to gush about his own accomplishments, Jackson said recently that he was "pretty happy" with his play during the first 12 games of the season but added that he felt like he "could play a little better here and there."
According to the Jayhawks' jack-of-all-trades freshman phenom, one of the biggest elements Jackson has enjoyed this season has been the opportunity to play for Self.
"I felt like I was a pretty tough kid before I came here," Jackson said. "But, with his coaching style, he's made me a lot tougher. The way he gets on his players sometimes, I've never had that out of a coach before."