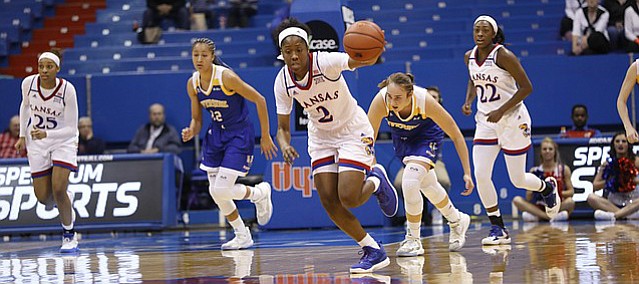 With 12 lead changes in the second half against UC Riverside on Wednesday, the Kansas women's basketball team kept turning to sophomore McKenzie Calvert.
But two minutes into overtime — following a miraculous, buzzer-beating 3-pointer from Riverside's Simone DeCoud that forced an extra period — Calvert was forced to the sideline because of an ankle injury. That's when Jessica Washington turned from offensive sidekick to superstar.
Washington scored 12 straight points in overtime, lifting the Jayhawks to a 90-84 overtime victory at Allen Fieldhouse to conclude the non-conference portion of the season. When the final seconds ticked off the clock, Washington looked at her teammates and let out a wide smile.
The 5-foot-8 Washington, a transfer from North Carolina, scored a career-high 27 points. She was perfect at the free-throw line, making all 12 of her attempts.
Actually in overtime, Washington was perfect from everywhere on the court, shooting 3-of-3. A strong dribbler, Washington drilled 3-pointers from the top of the arc. There were four lead changes in overtime, but Washington gave the Jayhawks (6-5) a four-point advantage with 35 seconds left and they made all of their free throws in the final 30 seconds.
"I just got more energy and built more fire inside of me," said Washington, who added six assists and four rebounds. "I saw Kenzie go down, and with the night that she had, I knew I needed to step up."
At times, it seemed like it was a battle of who had the ball last. With less than 40 seconds left in the fourth quarter, following a KU timeout, Calvert caught a pass on the left wing and launched a 3-pointer for a one-point lead, assisted from Washington.
Calvert, who scored a career-high 30 points on 12-of-20 shooting, was dominant in the fourth quarter. The offense was simply give the ball to Calvert and watch her do the rest. She scored 13 points on seven shots in the fourth quarter, including seven points in a two-minute stretch. Nobody else took more than one shot.
But each time the 5-foot-9 Calvert scored in the fourth quarter — whether it was 3-pointers or muscling past defenders on drives down the lane — the Highlanders (5-5) always had an response, usually from DeCoud.
"We were talking it up during the game like, 'When you going to stop scoring?'" Calvert said of DeCoud, her main defensive assignment in the second half, who had 29 points and 10 rebounds.
Down by three points with seven seconds left, the 5-foot-6 senior point guard DeCoud dribbled down the right wing, in front of her team's sideline, bobbled the ball and fired up a 3-pointer that looked as much like a shot put as a jump shot. It swished through the net at the buzzer.
"We shoot the same shot 10 more times and it may not go in," Riverside coach John Margaritis said.
It's the second time this season that the Jayhawks have watched an opponent drain a game-tying, buzzer-beating 3-pointer. When it happened on the road against Alabama, they lost in overtime.
"I've always said in the men's game that I would foul and in the women's game, it's iffy," KU coach Brandon Schneider said on fouling in the final seconds with a three-point lead. "But now that I've got my (butt) burned twice, I may consider it."
The Jayhawks will begin Big 12 play against Oklahoma on Dec. 29 at Allen Fieldhouse.