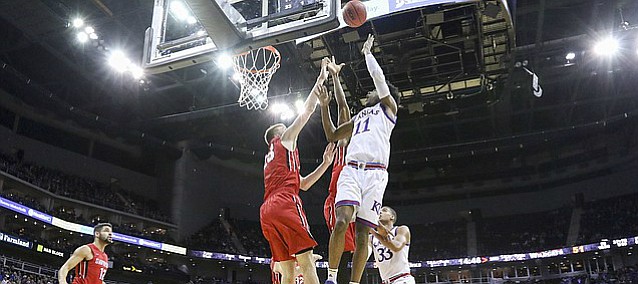 You can believe almost everything you read in sports sections across America, but there is one recurring exception: When a college basketball headline includes the word "upset," check the betting line from the previous day's paper before believing it.
If the score upsets you, that doesn't necessarily mean it's an upset.
For example, when Kansas travels to Morgantown to play West Virginia on Jan. 24, KU likely will rank ahead of the Mountaineers in the top 25. But if the Jayhawks are favored, it only will be by a point or two. Still, if WVU wins, many headlines erroneously will call it an upset.
As for genuine upsets, Kansas is even more immune to those than in most seasons.
Freshman Josh Jackson is as big a reason for that as anyone. His defensive versatility — pressure a point guard on one possession and rattle him into throwing a pass that gets intercepted, help off his man to swat a post player's shot the next time down the floor, follow that with a deflection of a pass that when released seemed bound for a clear, safe path — tends to make opponents skittish.
Jackson doesn't save his defensive intensity for big games because his approach is such that he doesn't just treat all opponents alike, but all possessions as well, each one representing an opportunity to win a battle.
Offensively, Jackson takes over when needed, such as during the second half of Saturday's 89-71 victory against Davidson in Sprint Center, a game KU trailed at the half, 43-42. His 3-pointer from the left corner sent the Jayhawks on a run, but his drives down the left side of the lane, one that resulted in two points, the other in three, took more out of Davidson.
Jackson's blind loyalty to making winning plays enables him to work close to the hoop when others in his situation might prefer to audition for scouts.
Blend a freshman who plays with the confidence, smarts and unselfishness of an upperclassmen with similarly aggressive guards, senior Frank Mason III and junior Devonté Graham, and it makes it so tough for opponents to pull off an upset.