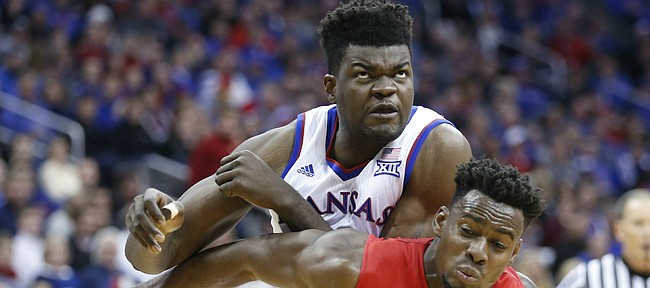 At times Kansas center Udoka Azubuike, who started his sixth consecutive game for the No. 3-ranked Jayhawks on Saturday night at Sprint Center, looks more like an unstoppable post presence than a 17-year-old adolescent still learning the demands of playing for one of the nation's elite college basketball programs.
When, less than two minutes in against Davidson, Azubuike launched his 7-foot, 280-pound frame skyward in order to finish a lob pass from Frank Mason III by crushing a two-handed slam, the young big appeared on his way to another promising night.
However, he committed two personal fouls before the first media timeout, prompting coach Bill Self to invite him to the bench for the remainder of the half. By the conclusion of KU's 89-71 victory, Azubuike had barely spent any more time on the court. Self elected to start senior Landen Lucas to open the second half, and Azubuike only logged seven total minutes, contributing five points and no rebounds.
Even so, his coach didn't fume while discussing the freshman center's mostly forgettable evening.
"You know what? Dok didn't play bad," Self offered, shortly after Kansas improved to 10-1 on the season. "He just got two fouls early. And if you start Dok the second half, he gets his third, he's done for a while. I just thought we'd at least delay him getting his third foul, at least a couple minutes. And of course it only took two minutes after he got in there to get the third one."
As the smirking 14th-year KU coach referenced, Azubuike, after spending more than 20 game minutes on the bench, didn't return to the court until 14:36 remained in the second half. The gargantuan teenager made one of two free throws, turned the ball over and committed his third foul in his two second-half minutes, before sitting for the final 12:20.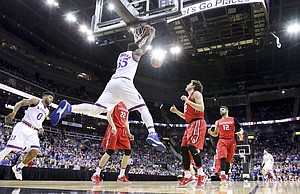 The same player who finished two dunks in the first five minutes turned into a non-factor.
"You know, it's tough," junior guard Devonte' Graham said of Azubuike's evening. "As a freshman you really don't know how to take that and stuff like that. But coach is talking to him. He understands why he wasn't playing, didn't start the second half because we didn't want to get him in quick foul trouble. But Landen started playing real good, so we just had to keep Landen in."
Asked if Azubuike needs to do something in particular to see extended minutes — more along the lines of the 23 he played against UNC Asheville and Long Beach State, or the 16 he spent on the floor against Nebraska — Self said he wasn't opposed to using his starter against Davidson (5-4). The game just led him in another direction.
"We could've played him some the first half (with two fouls)," Self said. "But if we're gonna play four guards, which we knew we were going to this game because of matchups and what (the Wildcats) like to do offensively, then to me there was really no reason to put him back in there unless Landen and Carlton (Bragg) got in foul trouble."
Therein lies the tricky part of Kansas utilizing what have proven to be effective perimeter-oriented lineups, featuring just one traditional frontcourt player. When Self scanned the box score after the victory, he didn't see Azubuike's stat line of 2-for-2 field goals, 1-for-2 free throws, no rebounds, three fouls, five points and one turnover in seven minutes. The coach lumped that output together with the numbers produced by Lucas, Bragg and Mitch Lightfoot, and arrived at 22 points and 16 rebounds in 50 minutes.
"We're gonna be pretty good if we can get that production," Self said, while crediting Lucas and Bragg for doing most of the damage — combining for 15 points and 16 boards in 39 minutes.
The reality for KU post players such as Azubuike is they likely will have to live with their productivity and overall impact fluctuating from game to game, as Graham explained.
"It's tough on the bigs, 'cause if all four of us (guards) are on the court, there's really only one other spot for another two or three guys who play that spot. But their attitudes are great," Graham added, "and when they get into the game they just try to contribute as best they can."
Another one of KU's veteran guards, Mason, said Azubuike could safeguard himself against extended time on the bench by focusing on providing the team with some big-man essentials: "Rebounding the ball, blocking shots, altering shots, just sprinting, running the floor every possession and getting angles," the senior leader said. "We need him to do those things first."
With the encouragement of teammates and coaches, Mason added, Azubuike picks up on those elements of the game daily and continues to improve.
While the massive freshman works to grow his repertoire, there figures to be days when he provides the Jayhawks with exactly what they need. And other days he might not.
As Self said after Azubuike played single-digit minutes for the first time as a starter: "I thought Dok did fine. I just thought the other guys were a little bit better."