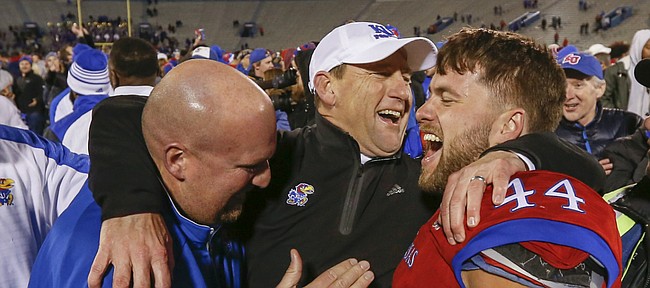 Less than a month after earning his first conference victory, second-year Kansas football coach David Beaty learned the university would like to keep him around.
Beaty signed a two-year contract extension, KU announced Monday, that runs through the 2021 season.
The new deal also increases Beaty's annual salary. In 2017, his base contract will pay him a guaranteed $1.6 million, an amount scheduled to increase by $100,000 on a yearly basis as long as he coaches the Jayhawks.
"This shows our appreciation for Coach Beaty," KU athletic director Sheahan Zenger stated in a release, "his staff and our players. I have enjoyed watching their progress during this season. We want to capitalize on the momentum we all saw as the season came to a close. This reflects our belief in Coach Beaty's leadership, and the energy and enthusiasm that we see every day from him and his players."
Previously paid $800,000 a year on his initial contract with Kansas, which Beaty signed when the university hired him in 2014, Beaty's base salary has now doubled. The extension includes incentive-based payments for conference championships, bowl wins and coach-of-the-year awards.
"I am appreciative of Dr. Zenger and our administration's show of support," Beaty said in a statement. "He and his staff have gone above and beyond to give us everything we need to build our program. Our staff and players have worked diligently to lay a strong foundation for the years to come. While we have certainly made some progress, we still have work to do to get to where we ultimately want to be and we look forward to continuing to take on that challenge. I am excited about the future of this program and am very honored to be the man leading it."
Podcast episode
Spodcasters Matt Tait, Benton Smith and Bobby Nightengale react to the contract extension given by KU to football coach David Beaty.
After a winless debut season in 2015, Beaty experienced his first victory as a college head coach in the 2016 season opener, against FCS foe Rhode Island. His Jayhawks went through a nine-game losing streak after that, before upsetting Texas in KU's home finale, 24-21, in overtime — marking Beaty's first victory in Big 12 play, as well as his first win over an FBS foe.
Two years into a contract now slated to keep Beaty in place through seven seasons, his record stands at 2-22.
— Check out the finer details of Beaty's new contract: Incentives, details of termination or buyout in place