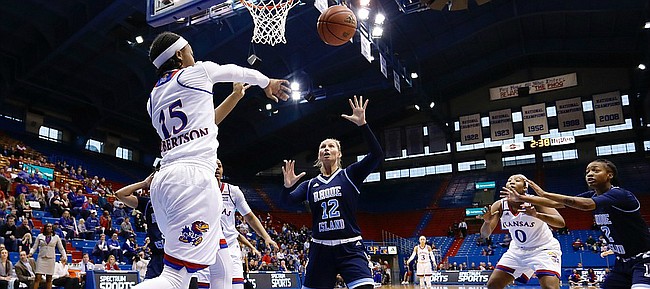 Over the last three games, Kansas women's basketball sophomore Kylee Kopatich only attempted 12 shots. Without sophomore guard McKenzie Calvert available on Sunday afternoon, Kopatich picked up the slack by taking a career high 17 shots.
Kopatich made eight of those shots and scored 19 points in Kansas' 72-36 win over Rhode Island at Allen Fieldhouse. The win snapped a three-game losing streak in what Kansas (4-5) coach Brandon Schneider called "our most complete game of the season up to this point."
"I've had some games where I haven't been shooting great," Kopatich said. "I just really think this is a definite confidence booster."
The 36 points Kansas gave up on Sunday were the fewest points allowed since it drubbed No. 10 California 62-39 in Dec. 2014.
In some of the Jayhawks' previous losses, coach Brandon Schneider was upset with the effort and competitive spirit of his team, but he said that couldn't be questioned Sunday. That started with Kopatich, who had nine rebounds (four offensive) and five steals.
"It's not just about making shots," Schneider said. "I think sometimes those plays is what precedes you making shots. If you do those little things, the basketball gods smile on you and that ball goes in."
Both teams started the game slow on offense, and Kansas trailed 7-6 after the first quarter. With both teams playing a zone, Schneider thought there was too much standing around, so he decided to switch to a full-court press in the second quarter to create some energy.
Rhode Island (4-7) coach Daynia La-Force said the press "threw us for a loop," and it seemed to spark the Kansas offense.
The Jayhawks forced six turnovers and got out in transition where Jessica Washington created shots for herself and her teammates. Kopatich was the main beneficiary, as she had 13 points in that quarter alone.
Kansas outscored Rhode Island, 30-10, in the quarter, and it was its first 30-point quarter of the season.
"Getting stops on defense is how I like to play," Washington said. "That translated into transition offense. That's the type of team we can be. It all starts with our defense."
The Jayhawks were able to expand their lead in the second quarter playing the type of offense Schneider has been clamoring for in the early stages of the season. The Jayhawks had balanced scoring with three players in double figures, and three more with five or more points. They also had more assists (16) than turnovers (13) for the fourth time this season.
"I thought our ball movement was much more like what we want to continue to see," Schneider said.
Kansas will play host to Arizona at noon Saturday.
"We've improved a lot since the beginning of the season," Washington said, "but we still have a lot of improving to do."