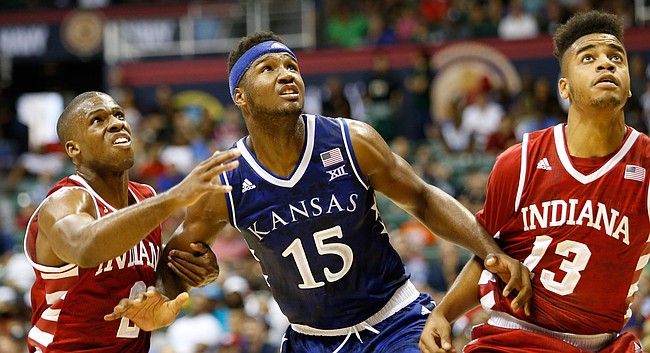 University of Kansas basketball player Carlton Bragg Jr. was arrested and charged with battery on Friday, after reportedly striking a woman and pushing her down the stairs. He pleaded not guilty later the same day.
Bragg, 20, is a 6-foot-10-inch sophomore forward from Cleveland, and a 2015 McDonald's High School All-American, according to the KU men's basketball roster.
In light of Friday's incident, Bragg will not play in Saturday's game against the University of Nebraska, head coach Bill Self said Friday evening, in a statement. Self did not say how long the suspension would last.
"Carlton and I have spoken," Self said. "He certainly understands the circumstances surrounding this issue. We are taking this charge very seriously; we're going to hold him out from competition as we continue to gather facts."
Bragg was charged in Douglas County District Court with one count of battery, a misdemeanor, according to the District Attorney's Office. He pleaded not guilty Friday afternoon, appearing in court via video from the Douglas County Jail.
Bragg's bond was set at $500, and he was released from jail later that afternoon. As a condition of his release, Bragg is to have no contact with the alleged victim in the case.
Bragg's attorney, Hatem Chahine, said Bragg had no criminal history and would cooperate with the court process.
"I assure you he wants to get this resolved," Chahine said.
Chahine said in court and reiterated to reporters after the hearing that Bragg has no desire to contact the alleged victim.
"He has no problems with following the no-contact order in this case," Chahine said.
Chahine is a partner with the Fletcher Rohrbaugh and Chahine law firm, with offices in Lawrence and Olathe. He said he took the case Friday and declined to answer who reached out to him or elaborate more on the battery allegations.
Bragg's charges stemmed from a 911 call placed about 1 a.m. Friday, according to an announcement from District Attorney Charles Branson.

Lawrence police responded, and the caller told officers that her boyfriend struck her and pushed her down stairs during an argument in the 1000 block of Emery Road, Branson said. That area of Emery Road, near the KU campus, is home to several apartment buildings and fraternity and sorority houses.
Bragg was suspected of using alcohol and drugs, according to the front page of the Lawrence Police Department's report. The report indicated that the victim's injuries were not severe.
She is a KU student, according to the university directory.
Battery is knowingly or recklessly causing bodily harm to another person, or causing physical contact with another person in a rude, insulting or angry manner, according to the Kansas statute.
The crime is punishable by a fine or jail time up to six months.
Bragg was booked into jail about 6 a.m. Friday, initially on suspicion of domestic battery, according to Douglas County Sheriff's Office records.
However, Branson noted that the relationship between Bragg and the victim did not meet the statutory requirements for domestic battery.
Under the state's domestic battery statute, a girlfriend would only qualify if she and the suspect lived together, had lived together in the past, had a child together or if she was pregnant and the suspect was alleged to be the father.
Separate from criminal proceedings, Bragg could face discipline by KU if he were found to have violated university rules.
Leaders from the KU police department and KU student affairs department were seen entering the district attorney's office shortly before Bragg's hearing on Friday, but they were not present in the courtroom. KU public affairs representatives did not respond Friday to a Journal-World inquiry asking whether university officials were investigating the incident.
However, according to KU's Code of Student Rights and Responsibilities, intimate partner violence violates the code, and students found responsible for it could be subject to discipline whether the violence occurred on campus or off. KU has jurisdiction to investigate and adjudicate such complaints if they involve two students and the alleged violence affects one's on-campus safety, according to the code.
KU also considers dating or intimate partner violence a form of sexual harassment under Federal Title IX and related federal rules, according to the university's sexual harassment and sexual violence procedure document. Title IX prohibits sex-based discrimination in education and requires universities to investigate and adjudicate reports of sexual harassment and sexual violence on their campuses.
In such cases, university investigators determine responsibility for violations based on a preponderance of the evidence, meaning allegations are more likely than not to have occurred. Courts of law convict when a suspect is determined to be guilty beyond a reasonable doubt.
Bragg's next court appearance is scheduled for 1:30 p.m. Dec. 27.