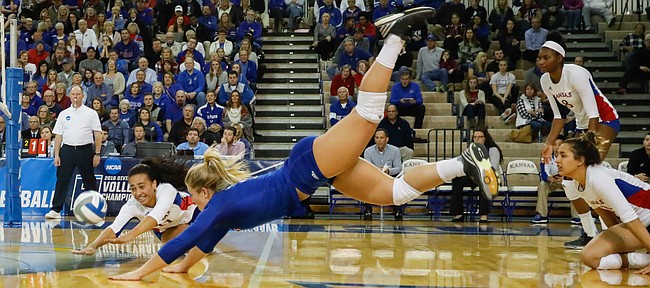 The NCAA volleyball tournament resumes Friday with Sweet 16 matches and without Kansas. Send your letters of thanks for that to members of the selection committee for a job horrendously done.
Even if you wrongheadedly grant the committee a pass for giving Big 12 second-place finisher Texas a top-four overall seed instead of outright champion Kansas, based on a better RPI, you must acknowledge that no justification whatsoever exists for KU and Creighton clashing so early in the tournament.
Mistake No. 1: Creighton, which takes a 22-match winning streak into a clash with Michigan in Austin, deserved to play host to a regional. The justification for not doing that: Only 16 schools are hosts for the first two rounds and Creighton stood at No. 17 in the RPI. Without that mistake, Nos. 3 and 4, far more egregious blunders, would not have been possible.
Mistake No. 2: Kansas State, twice beaten by KU and fourth-place finisher with seven Big 12 losses, was selected as a host because it had a higher RPI than Creighton and defeated the Bluejays in Manhattan in September.
Mistake No. 3: The committee sent Creighton to Lawrence so that the Big East champs could face the Big 12 champs, pitting against each other schools with a combined winning streak of 36 matches.
Mistake No. 4: The favorites also won their first-round matches in Manhattan, which set up a second-round clash between a fourth-place finisher, K-State, and a Big Ten sixth-place finisher, Ohio State.
Sept. 24, the date the Jayhawks lost to Texas in Austin, was the last loss for either KU or Creighton. Starting with the next day, Sept. 25, K-State and Ohio State combined for 14 losses. Repeat: Two conference champions with a combined zero losses since after Sept. 24 played in one second-round match and in another, a fourth-place and sixth-place finisher with 14 combined losses in that stretch met.
Six of the 16 remaining schools are from the Big Ten, unquestionably the nation's best volleyball conference. Given that, Ohio State must have had a tremendous RPI, right? Wrong! The Buckeyes were 38th.
Where do they hold these selection committee meetings anyway, at an all-you-can-drink martini bar? Did they all cram into a time-travel capsule, go back 50 years and take the Haight-Ashbury exit and then do the seeding?
Even 1970's Olympic skating and gymnastics judges from the Soviet Union would have been too embarrassed to put their names on such an embarrassing bracket.