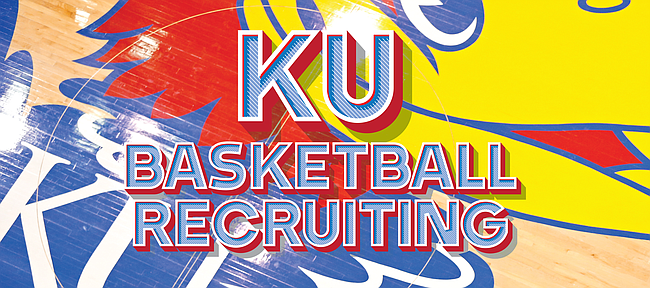 It's no secret that Late Night in the Phog is one of the Kansas basketball team's most important recruiting nights of the year.
For the program, it offers the rare opportunity before the early signing period hits in November to bring prospects into a packed Allen Fieldhouse, lights shining, building buzzing.
For the recruits who attend, it provides the chance to see — and most importantly hear — exactly how much the KU fan base loves its basketball program.
Those facts are just a couple of reasons the Late Night lineup often features more than a few visitors, many times with athletes from multiple classes attending the same event.
This year's Late Night — Saturday, Oct. 1 — will be no different, with prospects from at least three different classes already scheduled to attend.
Class of 2017 prospects Marcus Garrett, already a KU commitment, and Troy Brown, a 6-foot-6, five-star guard and the No. 10-ranked player in his class, made their plans to visit earlier this month.
And a few high school sophomores — 6-3 shooting guard Zach Harvey of nearby Hayden High in Topeka, 6-7 forward Jeremiah Robinson from Bishop Miege in Kansas City, and 6-9 forward Matthew Hurt, of Rochester, Minnesota — have been on the guest list for a few weeks, as well.
Earlier this week, however, the list grew by one, when Class of 2018 point guard Brandon Williams became the latest to make his intentions known. Rivals.com's Eric Bossi is reporting that Williams will take an unofficial visit to Kansas the weekend of Late Night.
At 6-foot-1, 170 pounds from Encino, California, Williams is a four-star prospect ranked No. 34 in his class. In addition to UConn, Kansas and Virginia, Williams currently holds offers from several schools out west, including Arizona, Arizona State, Gonzaga, UCLA and USC.
KU on Samuels' final five
Jermaine Samuels, a 6-6, 205-pound, four-star small forward in the 2017 recruiting class, on Twitter narrowed his list to five this week.
"First off I want to thank all the coaches that offered me through this great summer," he wrote. "Here is my top 5."
He then posted a picture of himself dribbling a ball surrounded by the logos from KU, Duke, Villanova, Georgetown and Indiana.
Ranked No. 49 in the 2017 class, according to Rivals.com, Samuels attends Rivers School in Weston, Massachusetts,
According to Rivals.com analyst Eric Bossi, Villanova is considered by many to be the front-runner for Samuels.