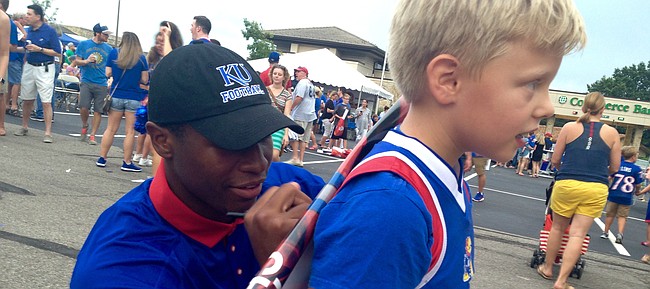 Prairie Village — Of all the challenges facing Kansas football coach David Beaty, stage fright isn't one of them. Still, instead of flying solo Friday night at the athletic department's annual KU Kickoff at Corinth Square, Beaty addressed the fans flanked by some of the more promising Jayhawks in his rebuilding program.
With junior receiver LaQuvionte Gonzalez and senior safety Fish Smithson to his left and a pair of sophomores, receiver Daylon Charlot and defensive end Dorance Armstrong Jr., to his right, the second-year coach told the crowd filling the shopping center parking lot in front of them why he's fired up about the players on the KU roster.
"These are just four of the great men that we've got on our football team. We've put a lot of work into trying to make them understand that we're gonna win championships as a byproduct of them being great men from the time we wake up to the time we go to bed, and then we're gonna hit the reset button the next day and do it again," Beaty said. "And that's how championships are won. There's no other way."
Before the group left the stage and the head coach and players spent time meeting fans, posing for photos and signing autographs, the head coach relinquished the microphone to let Smithson address the contingent of crimson and blue-clad supporters. The 5-foot-11 safety from Baltimore, whom Beaty said would be a KU captain this season, related how the offense and defense have spent the past few weeks at preseason practices challenging each other and improving.
"We had a tremendous offseason through winter conditioning, summer conditioning and also fall camp," Smithson said. "These two guys right here who play wide receiver (Charlot and Gonzalez), they make it really tough on me. Then Dorance, he makes my job easier on that defensive end, getting after the quarterback."
As the pep rally unwound, Beaty told reporters why he decided to bring some players with him to the event.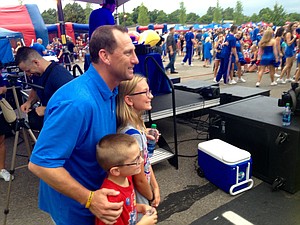 "The thing I want people to get to know is our guys. We've got tremendous kids and we've got great players," the coach said. "And I'm not sure there's been enough story lines written about those guys. And I get it. I understand that we've been a new (staff) and there's a lot of new faces and until you get to know them on the field it's hard to get to know them off. But we've got so many really good kids. I wanted to get them out in front of these people and let them get to know them."
The players got to do a little of that as they interacted with the fan base nearby. In the meantime, Beaty, who went 0-12 in his first season at Kansas a year ago, spoke highly of the program's followers, citing their loyalty.
"They just want to win, and you know what, I don't blame them," Beaty said. "I'm a (Dallas) Cowboy fan and I don't care why they're losing. I just want them to win. I understand where (the fans are) coming from. We're working to give them something they can be proud of."
With the Sept. 3 season opener versus Rhode Island now just a week away, Beaty likes the way the Jayhawks have practiced the past five days, noting the final non-game week sessions can become mentally taxing.
"They're understanding it and they want their fan base and their stakeholders to be proud," the coach said. "They are being relentless in their work ethic to give them something to be proud of."
Preparation and game-planning for URI, Beaty shared, began this week.
"We basically will repeat that week again this week," Beaty said, "and we'll be prepared and ready to go on Friday night to kick it off on Saturday evening."