When Kyle Clemons was a junior in high school, he thought he was on his way to becoming a Major League Baseball center fielder.
Today, he's an Olympic gold medalist in a sport he did not even begin competing in until he was 16 years old.
Not that you'd know it from the way the former KU track star has operated since returning from Rio de Janeiro, Brazil, after helping the United States' 4x400 relay team win gold. For starters, he's still the same, soft-spoken, kind and humble athlete that KU fans came to know from 2010-13. In addition, he has not exactly treated his actual gold medal like the kind of guard-it-with-your-life memento that it truly is.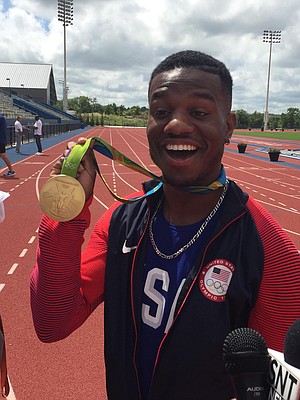 "I've had it pretty much in my glove box in my car," said Clemons when asked where he has kept his prized possession since his return home. "Wherever I go, people want to see it and I don't want to go all the way back home (to get it) so it's been there for now."
Clemons' rise from aspiring baseball player to Olympic athlete happened quickly. And it was the kind that you cannot script. He earned his medal by running the third leg in the semifinals but sat out of the gold-medal race as an alternate. That, in itself, was as nerve-racking of an experience as any race he ever had run.
"My nerves were on 100 because it was not in my hands, I couldn't do anything, it was all up to them," he said, still shaking his head at the thought of it.
Although Clemons never envisioned this path for himself, he credits his time at KU and working with head track coach Stanley Redwine for helping him reach the point where he can legitimately lay claim to the title of world's best.
"Ah, man. I can't even put it into words," Clemons said of KU's impact on his career. "The Olympics (were) not always a goal of mine, but as soon as I started running I knew that's what I wanted to do and Coach Redwine brought it out in me."
With Clemons' name now standing alongside some of the greats in the sport, his memories of American sprinter Michael Johnson's Olympic dominance or Kansas City native Maurice Greene having his spikes cooled down with a fire extinguisher after a race have extra meaning for the Jonesboro, Arkansas, native.
Of course, he's not at all ready to include himself in that company just yet. But the 25-year-old who will continue to serve as a volunteer assistant for Redwine while training in Lawrence is not ruling out the possibility of someday getting there.
"I'll be 29 at the next Olympics," he said. "I guess the way everyone else treats me is a little different, but, as far as inside, I've barely scratched the surface of where I need to be or where I want to be.... I haven't even started yet."
No superstitions here
Former KU thrower Mason Finley (2010-12), who qualified for the finals of the discus and finished 11th in Rio, said he was thrilled to experience his first Olympics with three other Jayhawks. Three of the four — Clemons, Finley and triple-jumper Andrea Geubelle — even came to Kansas in the same recruiting class.
"That was awesome to go down there with people I knew," he said. "What a heck of a recruiting class, '09 was. It was awesome."
At this point, though, the only one of the three to own a gold medal was Clemons and, after a recent period of heavy contemplation, Finley was not about to let his opportunity to see one up close pass.
"I thought about it," Finley admitted. "I went up and I saw Kyle was holding it and I thought, 'Man, should I touch it?' But I'm not gonna be superstitious, I gotta touch it. So I picked it up and.... it's what we all strive to work for. It's cool to see it, it's cool to the see the success of my teammate and it definitely lights a fire under my butt."
It's the experience that counts
After two years of heavy training and battling through injuries, three-time NCAA champion Andrea Geubelle, who competed at KU from 2010-13 suddenly found herself living a dream as a member of the U.S. Olympic team in Rio.
Never one to lack for confidence, Geubelle said she believed in her ability as much when she arrived in Rio as she did throughout her time at Kansas. But it was the experience of the whole thing, more than finishing 21st in the triple jump, that made a lasting impression with the University Place, Washington, native.
"It's really humbling in a way," she said. "You see these people that you idolize your whole life, and to be on the same stage with them, you had to go through the same process to get there.... That was one of the biggest learning experiences — that I belonged on that stage."
Of course, that realization carried with it a dose of reality that Geubelle was not afraid to face. It's also one she thinks will aid her training for Tokyo in 2020.
"Everybody expects (to win a) medal," she said. "But unfortunately there's a lot more heartbreak at the Olympics than there's success.... I am extremely confident in the jumper I am, but I try to be real with myself. So to make the Games was huge for me. Just to get that experience under my belt was incredible. I feel a lot more prepared and I feel a lot more fire going into these next couple of years."
Making history
Former KU hammer thrower and Jamaica native Daina Levy (2014-16) became the first woman from her country to compete in the Olympics at her chosen event.
After recently wrapping up her KU career, Levy finished 30th in Rio as a member of the Jamaican national team. While her experience was particularly memorable on a personal level, she was far from the only Jamaican to make history in Rio.
Fellow countryman Usain Bolt's sweep of the 100- and 200-meter sprints gave him the title of the world's fastest man for the third consecutive Olympics and Levy had a front-row seat for the whole spectacle.
While being a part of the same team for which one of the sport's true global stars competed made her experience magical, Levy admitted she was not necessarily in awe of Bolt's presence.
"He's just Usain to me," Levy said with a shrug and a smile. "He's just a goofy, fun-loving guy. I don't see him in quite that big of a light because I've had an opportunity to be around him so much. To me, he's just a great person, who runs really, really fast."
Having said that, she did not pretend for a minute that his accomplishment was anything short of remarkable. And, to her, that, as much as anything, was what made her first trip to the Olympics so special.
"It is surreal," she said. "To even be anywhere close to the same (place) as these guys, that is absolutely incredible to me. I never thought I could get to the place where I could be rubbing shoulders with someone like Usain Bolt or (American swimmer) Michael Phelps."