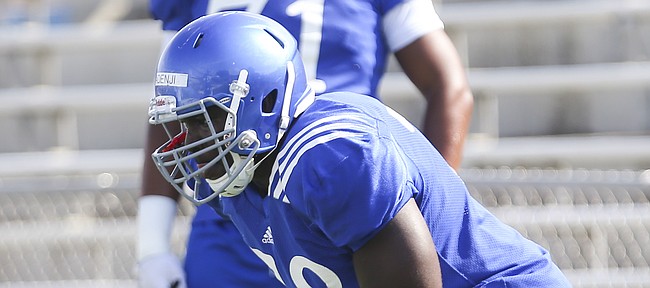 When true freshmen arrived on campus this summer, Kansas offensive line coach Zach Yenser greeted the new blood in his unit with a straightforward message: "Don't come in here with the mindset that you're gonna redshirt."
Apparently newcomer Hakeem Adeniji latched onto that piece of advice and blocked with it. Fresh out of Garland, Texas, Adeniji started forcing KU's football coaches and players to notice him in summer workouts, and his reputation only grew once preseason practices began earlier this month.
Yenser doesn't want his youngest linemen assuming they'll redshirt their first season in the program because he has seen that "I'm not going to play this year anyway" mindset regress competitive players into less assertive ones. Such a storyline never came close to materializing with Adeniji. Although he has only been at KU a few months, the freshman's position coach already trusts him enough that a year off for development isn't an option. In fact, Adeniji projects as the Jayhawks' starting right tackle for the Sept. 3 season opener versus Rhode Island.
"I know what Hakeem's gonna do when he steps out there," Yenser said.
As the O-line coach put his new 6-foot-4 trainee through rigorous August drills, characteristics of an effective blocker kept shining through. Yenser loves Adeniji's smarts and physicality (even though the coach estimated he weighs in the 270- to 275-pound range), and described him as "very, very consistent" throughout camp. Plus, even though Adeniji is new to college football, Yenser said he neither goes the wrong way on play calls nor gets beat around the edge.
"That's what's been so refreshing about Hakeem," his coach marveled, wishing he could take credit for it but instead deferring to the youngster's prep coaches. "You don't find that very often as an 18-year-old."
At Garland High, Adeniji played both offensive tackle and defensive end for Jeff Jordan, now KU's director of personnel, and lettered in basketball and track. Obviously his athleticism has much to do with his quick ascension at Kansas. Still, his new head coach, David Beaty, also a Garland native, raves about Adeniji's smarts, as well. Sure, he was named to the Dallas Morning News' All-Area Top 100, but Adeniji did so while enrolled in Garland High's international baccalaureate program, taking advanced honors classes.
Beaty said the freshman lineman's intelligence and manhood showed up when Yenser plugged him in at various spots on the line and Adeniji handled it like a battle-scarred veteran.
"You can get on the field as a young'n if you're smart and you're mature," Beaty said. "I think it's the last thing that gets lost. There are some smart guys that are not mature. He's a smart, mature guy. Doesn't say much. I think he just really loves the game, and that's what's helping him."
KU doesn't make freshmen available for interviews, but senior left tackle D'Andre Banks didn't mind joining his coaches in lauding Adeniji's prowess.
"When I was 17, 18 years old my footwork was nowhere near his," Banks said with a laugh. "He's having a really good fall camp, and it's opening a lot of eyes."
Despite the demands put on offensive linemen, Banks said Adeniji "plays the game the way it's supposed to be played," allowing him to overcome his lack of experience.
"He's never afraid of contact," Banks explained. "He's always the first one in there, and as an offensive lineman you've gotta be technically sound but you've gotta have that little bit of nasty."
A former O-line coach at Louisiana Tech and Cal, Yenser hasn't been around too many like Adeniji, who is physically and mentally ready to play as a true freshman — "Sometimes you have guys who are thrown in there because they have to," he added.
Although Yenser admitted every offensive lineman would redshirt in a perfect world, he maintained he has the utmost confidence in Adeniji to play on the right side, at tackle or even guard.
"You look at him, he's 270 pounds, 275, and the guy, he plays with incredible pad level, incredible leverage with his hands," Yenser said, "and he does every thing you ask him to do."