Thursday, August 25, 2016
Ever energetic and never pessimistic, even Kansas football coach David Beaty absorbs more exhilaration from certain aspects of his line of work than others.
Through his travels up the coaching ranks, few obligations invigorated Beaty as much as calling plays for his team's offense. No wonder after one season of running the program at KU he's once again doing what he loves.
"You know, selfishly it has been so fun to get back into that," Beaty said of installing his version of the Air Raid over the past several months and taking over as the Jayhawks' play-caller. "I really can not wait to get to practice every day. It's so much fun doing that, moving those pieces around. That's something that, selfishly, it is fun. But it's also good to see our staff work together, see the cohesion come together and the roles work together."
A former passing game coordinator and wide receivers coach as an assistant at the college level, Beaty spent one season running an offense on David Bailiff's Rice staff in 2010 (Beaty held the title of co-coordinator at KU in 2011, when Chuck Long ran the show). The Owls only won two games the year before Beaty inherited the offense, but improved to 4-8 in his season of coordinating, with the aid of a more valuable attack.
In 2009, Rice ranked in the triple digits nationally in a number of offensive rankings — much like Kansas did last season, when offensive coordinator Rob Likens organized the Jayhawks' game plan.
While Beaty didn't turn Rice into an unsinkable touchdown-scoring force in Conference USA in 2010, the offense did experience noticeable gains. The Owls moved from the 104th-ranked rushing attack (109.3 yards a game) in FBS to 51st (159.4). Their passing numbers improved, too — from 84th (195.3) in yardage and 115th in passing efficiency (101.16) to, respectively, 64th (215.9 yards) and 52nd (132.72). In total offense, Rice jumped from 111th (304.6) to 63rd (375.3), and the team's scoring improved from 110th (18.3 points a game) to 52nd (28.7).
KU's head coach elected to take over the offense this season in part because he appreciates the intricacies of finding the weaknesses in defensive formations and helping skill players peak, but there's also the matter of how poorly the offense performed in his first year and the fact the product has his name on it.
Even if Beaty has made no declarations of how much better the offense could or should be this fall compared to KU's winless 2015, he hasn't hid his confidence in his tempo-based system.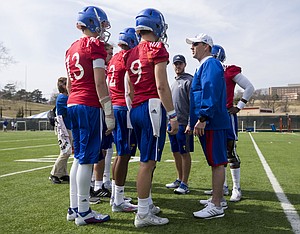 The Jayhawks' offense, to be sure, could use some stimulus. A year ago, Kansas ranked 120th in rushing (112.9 yards per game), 69th in passing (218.6), 115th in pass efficiency (105.07), 114th in total offense (331.5) and 122nd in scoring (15.3 points).
Beaty has yet to publicly name a starting quarterback between sophomore Ryan Willis and red-shirt junior Montell Cozart, but KU's coaches and players this preseason have expressed their belief in the offense's improved depth at nearly every position. The ability to put former Texas A & M receiver LaQuvionte Gonzalez on the field, too, has been cited as a considerable upgrade.
Still, if the Kansas offense experiences a Beaty boost similar to Rice, the head coach won't contend the offseason move to his scheme under his direction was the origin of any apparent success.
"This thing will never be about me. And when we move this thing forward offensively, it's not gonna be because of David Beaty," he said last week. "It's gonna be because of Zach Yenser and his offensive line, Rob Likens and what he's done with our offense — offensive line, running backs — the whole piece that he's created for us. It's gonna be about Jason Phillips and what he's done with our guys on the perimeter (at receiver). It's gonna be about all those guys, and it's gonna be about us doing it together as a group. And we will get there, no doubt about it. I like the progression we're making."