Every time the Kansas football team plays a home game, head coach David Beaty would like to see Memorial Stadium filled to capacity, with more than 50,000 spectators cramming into the nearly century-old venue. The second-year coach also understands the struggling program has a lot of work to do before that vision comes close to reality.
According to KU's announced count, only 30,144 attended Beaty's KU debut last year against South Dakota State. A season-low 21,415 showed up on Nov. 21, 2015, to watch the Jayhawks lose to West Virginia. Slightly more people (23,842) made it out the following week for the Sunflower Showdown, with the gate no doubt helped by rival Kansas State's fan base.
The Jayhawks haven't played a home game in front of 50 thousand since 2009. After Kansas went winless in 2015, Beaty acknowledges the school's supporters have plenty of weekend options and it's up to his team to make attending a football game a more enticing one.
"We have to give our fan base something that they can be proud of," Beaty said last week. "We can't do that by snapping our fingers. We've just got to do it one day at a time. And we've been putting that work in for a good year and a half now, going into our second season, and we need to give them a reason why they need to skip a pottery class on Saturday and get to the stadium."
A season-high 37,798 fans reportedly watched KU's Week 2 home loss to Memphis in Beaty's first year.
The first chance for Kansas backers to top that number comes Sept. 3, when the Jayhawks open the season against Rhode Island — when KU has a chance to end its 15-game losing streak, which dates back to the November before Beaty took over.
"We need to give them a reason to get out there and fill the hill," KU's coach reiterated. "And the reason that's gonna be is we're giving them something they can be proud of, and that doesn't happen over night. But we've made a lot of strides."
Sophomore bond
Like numerous Jayhawks last season, receivers Jeremiah Booker and Steven Sims Jr. made their college football debuts. While the true freshmen showed flashes of better things to come, their inexperience limited their productivity.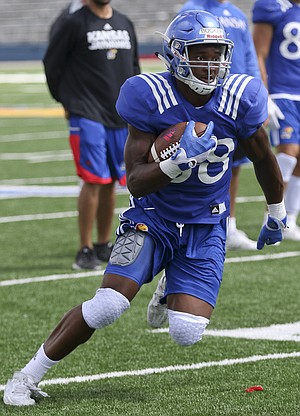 Booker explained their toils, though, helped them prepare for this coming fall.
"We really learned a lot by playing our first year last year, and we just saw the little things we need to work on," Booker said.
Sims caught 30 passes for 349 yards and two touchdowns while playing in 11 games. Booker finished with 23 catches for 228 yards in eight appearances.
Both wanted to do more for the low-scoring (15.2 points per game) KU offense, and Booker said both plan on contributing to an improved attack as sophomores.
"We talk about it all the time. Last year's not good enough and we have to continue to work and get better," Booker said. "Our expectations always grow and continue to get higher. We're just working toward that."
QB Starks may red shirt
Throughout preseason camp, Beaty repeatedly has mentioned how much fun he has watching KU's quarterbacks improve. Oftentimes while discussing the battle for the starting position between sophomore Ryan Willis and junior Montell Cozart, the coach also brings up less experienced QB's who are lower on the depth chart.
On Friday, Beaty again complimented true freshman Tyriek Starks, calling the New Orleans native a "talented dude," but indicated Starks is a candidate to red shirt this season, which Kansas was able to do with QB Carter Stanley a year ago.
"I don't know that he'll get on the field this year," Beaty said of Starks, "but if he does we're pretty dang good, because the rest of them in front of him are pretty good, too."
Thus far, Starks has impressed Beaty with his arm, footwork and instincts.