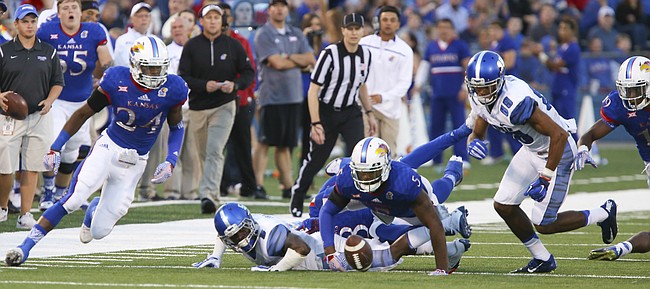 Each player and coach within the Kansas football program goes to work every day with the common endeavor of leading the Jayhawks out of an era defined by overmatched rosters and losing seasons.
As second-year head coach David Beaty keeps chipping away at that daunting venture, he and his staff try to help players identify optimal plans of attack. Few occurrences on the football field can help accelerate an overhaul more than big plays, and unless you're talking touchdowns, nothing swings a result quite like a turnover.
So as the Jayhawks plug away through August practices and video reviews, refining plays and trying to jell, they often hear reminders on the importance of protecting the football on offense and creating takeaways on defense.
A year ago, when KU finished 0-12, joining Central Florida as the only Division I program to do so in 2015, the Jayhawks finished tied for 105th nationally in turnover margin — minus-seven on the season.
In total, Kansas recovered nine fumbles and intercepted nine passes. KU's opponents had 11 fumble recoveries and picked off 14 throws.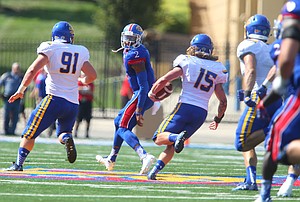 As a way to overcome that deficit and produce more desirable results this fall, Beaty implemented a daily takeaway competition at preseason practices. It's offense versus defense, and the defenders begin at a disadvantage, with Beaty and his offense at plus-two on the scoreboard when the turnover contest begins. Every time the defense comes up with a fumble recovery or interception, the offense loses a point. KU's defensive players attempt to put their counterparts in a deficit before the end of practice and the losing side has to run gassers — sprints across the width of the field and back.
The way KU senior cornerback Brandon Stewart talks, the defense doesn't mind the uphill climb toward winning the competition.
"We just have drills at practice where we practice taking the ball away," Stewart said. "We just do a little circuit and by the time we get on the team event then we're (prepared)."
On Friday, Beaty pointed out the defense has won the takeaway battle most of the time. Stewart added the secondary is doing its share to make that happen.
"We've been getting some interceptions, you know, forcing some fumbles," the corner said. "I feel like we're doing pretty well. But you can never have too many. We can always have more."
According to Kansas sophomore quarterback Ryan Willis, the turnover contest hasn't been one-sided.
"It switches off daily. It depends on what we're working on, different installs for the day. I mean, Coach Beaty has really stressed to our team that he wants to win the turnover battle," Willis said. "He's just been really hard on us about that, and if we throw a pick or something we've got penalties after practice, which aren't too fun. But he just wants ball security."
Last season quarterback Montell Cozart threw one interception in his 105 attempts during an injury-shortened campaign. Opposing defenses picked off Willis 10 times out of his 315 passes, the bulk of which came against Big 12 defenses.
Cozart said the takeaway battle has helped both sides during KU practices and the defenders do a nice job of competing for balls in the air.
Now senior safeties, both Fish Smithson and Greg Allen had two interceptions last season, while Smithson also recovered a fumble. Senior linebacker Marcquis Roberts led KU with two fumble recoveries during his junior year, and also picked off a pass. Sophomore defensive back Tyrone Miller forced two fumbles as a true freshman.
So far at practices, when Cozart drops back to pass he said the last guys he wants to see breaking toward a ball are Stewart, Smithson and senior corner Marnez Ogletree.
Before every snap, Cozart said Smithson lurks in the secondary, reading the quarterbacks' eyes.
"You can kind of see it before you take the snap. Fish and I just kind of play cat and mouse games. It's just great learning from those guys," Cozart said. "And I feel like our offense is putting great stress on the defense to where they're getting ready. We run the same type of offense as a whole bunch of teams in the Big 12, so I know our defense is looking forward to it."