For all the optimism in the air at Anderson Family Football Complex and the progress being made on the field during preseason practices, at least one national outlet isn't ready to project Kansas as an improved program from a year ago.
CBSSports.com ranked every FBS program in the nation — all 128 of them. Less than a month away from the season opener, the Jayhawks come in near the bottom of the list, at 119th. Or for the glass-half-empty population, 10th worst.
Kansas, of course, failed to win a game in head coach David Beaty's first year, and the program has finished last in the Big 12 in four of the five seasons since the league did away with divisions, no doubt leading to KU's lowly position.
No one within the program actively preparing for the coming fall chooses to dwell on shortcomings from the past, though. Headed into his second season in Lawrence, Beaty witnesses what outsiders don't and repeatedly has spoken about how the 2016 version of the Jayhawks are better equipped for competition.
"That's the biggest difference in our team right now than a year ago," Beaty said earlier this week. "We have real competition. We have some depth."
The Jayhawks ranked ahead of only (ordered from top to bottom) Kent State, Hawaii, Texas State, Ball State, New Mexico State, Charlotte, North Texas, Eastern Michigan and UMass in the CBS Sports hierarchy.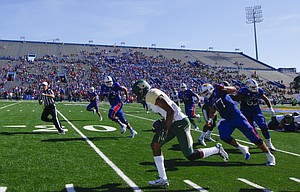 Kansas wasn't the only power conference program to fall into triple-digit range, though. Three Big Ten teams — Purdue (102nd), Illinois (106th) and Rutgers (111th) — bottomed out in the preseason projections. Even the mighty SEC's South Carolina showed up at 100.
Looking strictly at the Big 12, most of the league fared much better than KU, while Iowa State (3-9 overall in 2015, 2-7 Big 12) appeared at No. 96.
The CBS Top 25 included No. 3 Oklahoma, No. 13 TCU, No. 16 Baylor and No. 22 Oklahoma State.
Texas just missed out on the upper echelon, at No. 27. Tech ranked 47th, West Virginia was 51st and Kansas State fell smack in the middle of the massive list, at No. 64.
Even the Jayhawks' two FBS non-conference opponents managed far more respectable spots: No. 59 Ohio and No. 60 Memphis.
Naturally, KU's players are all too familiar with the program's recent woes, most notably last season's 0-12 record. But even those who experienced the lowest of the lows, such as sophomore quarterback Ryan Willis, who started the final eight games of 2015, understand they're better off focusing on building a better future.
"You know, it's in the past. We haven't forgotten about it. It's kind of driven us to work harder this offseason," Willis shared at KU's media day. "Everyone wants to win. Winning cures all."
Willis said the Jayhawks realize they're rebuilding and they think they have enough talent on the roster to win games this fall.
They still have more than three weeks of preparation and development to get through before a Sept. 3 season opener at Memorial Stadium against Rhode Island.
Said sophomore receiver Steven Sims Jr.: "I think we're starting off real good, actually. Everybody's put in a lot of work this offseason. The strength and conditioning staff has been on us. It's been a great summer, so I'm really excited for the season."