The last words Kansas sophomore Carlton Bragg shared with his high school coach, Babe Kwasniak, during a recent reunion in Lawrence were some of the first he heard his old coach say back in Ohio.
Those words, written in Sharpie on a pair of size 16 Adidas basketball shoes that Bragg wore at the World University Games last summer, were a parting gift from Bragg to the man who played a big role in transforming him from shy and quiet to lean and mean prior to his joining the Jayhawks.
For Kwasniak, a veteran of the United States military and one of the biggest Bragg fans on the planet, the gift was one of the highlights of his trip to Lawrence during the first week of August.
"He gave us a tour of Allen Fieldhouse and their dorm, the mansion, as they call it, and when we were walking out of his room, he said, 'Hey coach, I've got something for ya,'" Kwasniak recalled. "And he gave me a pair of shoes that he wore last year in Korea. They were like KU, red-white-and-blue shoes. And he wrote on the shoes, 'Don't ever change. Love you guys. Carlton.'
"When all this stuff started, when he was 16 years old, I said, 'Hey, man, the only promise you've gotta make me is that you're not gonna let any of this change who you are.'"
As a person, it hasn't. If anything, the smiling-and-still-growing forward who seems to be poised for a breakout season for Bill Self's squad is as humble and kind as Kwasniak remembers him. And the unexpected souvenir which now sits in his office at Villa Angela-St. Joseph High back in Cleveland served as proof that Bragg had heard Kwasniak's request.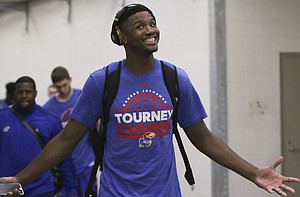 When the high school coach and his former star pupil get together these days, basketball is just one of the topics they discuss. They talk family, school, life and the future, and, of course, reminisce about the past.
"My love for that young man has nothing to do with his ability to put the ball through the hoop," Kwasniak said. "That's Coach Self's job. ... I've said this to all of the college coaches or even the NBA GMs who I've talked to: Whatever the 'it' is, he has it. And that has a lot more to do with intangibles than the basketball stuff."
Of course, it's "the basketball stuff" that's the biggest reason Bragg is at Kansas. And after playing in all 38 games as a freshman and showing hints of the scoring ability and explosive play of which Kwasniak and others say he's capable, Bragg now sits on the brink of a big opportunity. Gone is Perry Ellis, the senior forward who was a fixture in the Kansas offense for the past four years. And the player most likely to step into his place is Bragg.
Kwasniak said the two kicked the concept around a little during his recent visit, but insisted that the fact that they did not need to address it was the more telling part about whether Bragg was ready.
"I think he realizes it," said Kwasniak when asked if he thought Bragg was aware of what awaits. "But it's in his personality to not be too uptight or too serious. That's just who he is. ... He's had such ridiculous expectations put on him his whole life that it's pretty tough for him to fail at this point. He's already accomplished so much."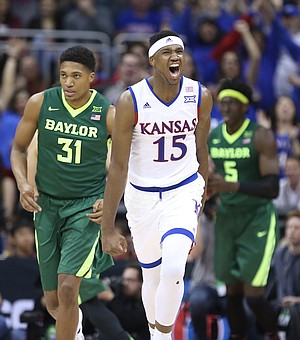 Like many Kansas fans and even a few key people inside the program, Kwasniak strongly believes Bragg will be a much more potent player than his 3.8-point, 2.5-rebound Year 1 averages in 8.9 minutes per game suggest.
For one, he's a believer in Bragg and knows, more than most, how willing the young man is to put in the work required to be great. He's seen it happen before in a very similar situation.
"Between his freshman and sophomore year of high school was as big of a jump as I've ever seen," Kwasniak said. "I don't think it was the basketball stuff as much as it was the life skills. And that just kind of carried over into the basketball court. That's when we were like, 'Whoa, man. This kid could be really, really special.'"
There are no guarantees that a similar jump is coming, though several signs indicate that the potential is there. But both Bragg and Kwasniak know he's going to have to improve across the board to become the player he wants to be.
As for the areas getting the most of Bragg's attention this summer, Kwasniak said the two talked about defending the pick-and-roll better and attacking the basket with the dribble more often than he did last season. If he's successful in upgrading those two areas and continues to flash the shooting touch and rebounding prowess that surfaced a season ago, Bragg won't just be a better Jayhawk, he'll be on his way to becoming a pro.
"Here's what doesn't change, going from Villa Angela-St. Joseph to Kansas," Kwasniak said. "You're gonna be judged on winning and losing. Carlton's OK with that because he's been judged that way his whole life. And he even told me that when we were just there. He knows his stock takes on a whole different look if Kansas wins a national championship."
With that in mind, Kwasniak is determined to get back to Lawrence for a game this season.
"I don't want to pass up the opportunity to get out there and see him," he said.
In the next breath, he brought it all back to the beginning and the purpose behind his message and those shoes.
"I'm proud of him and I'll be proud of him even if he never plays in the NBA," he said. "But my inclination is that he's in for a big year."