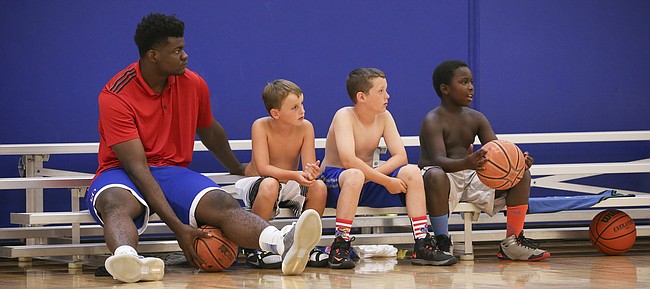 During his first 13 seasons in charge of the Kansas basketball program, head coach Bill Self has signed 53 players to the program.
That pans out to about four players per class, with the high of seven coming after the title run in 2008 and the low of two coming twice, in 2007 and 2010.
By those measures, Self's three-player 2016 class is a little light, but only in terms of bodies. The incoming class, which consists of No. 1 overall prospect Josh Jackson, No. 31 Udoka Azubuike and No. 107 Mitch Lightfoot could go down as one of the more talented, pound for pound.
Self knows that already and praises the group every time he's asked.
"It's a good class," he said during a recent appearance on KLWN's Rock Chalk Sports Talk. "There's only three, but you've got a headliner and then you've got a guy who's got a chance to be terrific and then you've got kind of an unknown guy that we feel like can be a Travis Releford, Elijah Johnson guy that comes in and kind of pays his dues and ends up being a really good player for us."
The headliner, of course, is Jackson, who continues to create serious buzz at both the NCAA and NBA levels.
Lightfoot is the likely four-year guy who Self believes could follow in the footsteps of past four- and five-year standouts. If he takes that path, his greatest contributions will come not in 2016-17 but more likely in 2018-19 and 2019-20.
And then there's Azubuike, a young, somewhat raw, athletically gifted center from Nigeria who will not turn 17 until mid-September.
Measured at a shade over 6-11 with a 7-5 wingspan, the newest KU big man already has shown in camp games and summer workouts the ways in which he can impact this roster immediately. Even though he has yet to put specific parameters on his expectations for Azubuike, Self has made it clear that he's looking forward to seeing just how productive Azubuike can be in Year 1 with the Jayhawks.
"Josh has gotten the majority of the headlines, which he deserves and probably should," Self said on RCST. "But Udoka has a chance to be a special guy. He's just so young. But I get excited every time I get a chance to work out with him."
Asked to elaborate, Self pointed to Azubuike's physical gifts.
"I just can't believe, at that age, that he would possess that type of size, strength and athletic ability," he said.
After a short pause in the grind toward the end of summer break, the Jayhawks are expected to return to campus on Aug. 20, when they will pick up with conditioning exercises in preparation for Late Night in the Phog and the official start of the 2016-17 season on Oct. 1.