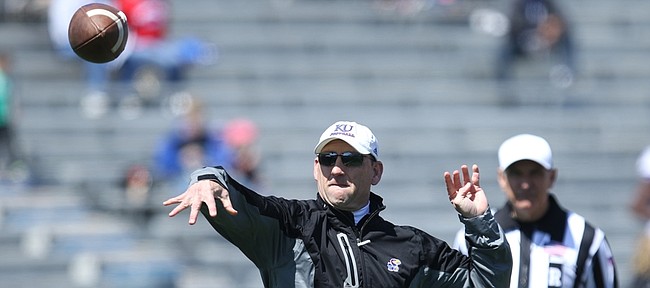 Every time Kansas football coach David Beaty starts discussing quarterbacks, he can't seem to stop himself from rattling off the qualities he most enjoys about four or five of the Jayhawks he works with every day.
It's just one sign that Beaty, who has heralded the program's improved depth all over the field this year, won't rush into naming a starting QB.
From sophomore Ryan Willis and red-shirt junior Montell Cozart — the perceived favorites in the race — on down the line to sophomore Keaton Perry, red-shirt freshman Carter Stanley and true freshman Tyriek Starks, Beaty says he likes them all.
"Tyriek can throw it now. I mean, he doesn't have a clue what he's doing, but he can throw it," Beaty said of the 6-foot-1 newcomer from New Orleans. "It's amazing how accurate he is and he really doesn't know what he's doing right now. This dude can spin it now. I like him."
And so it goes when KU's quarterback coach is asked about a subject close to his heart. Willis really impressed him one practice, but in the same breath he will tell you how well Perry is throwing the ball, that Stanley looks much better and Cozart has greatly improved his arm strength.
Beaty sees more of the candidates than anyone else and claims each one has the physical abilities to produce on the field.
"These guys, they've got that," he said. "There's no doubt about that. If we can protect them, all of them can move the ball."
At some point, Beaty and his staff hope to see one of the quarterbacks make the decision easy for them in the preseason practices to come. The second-year KU coach just doesn't see a need pronounce a No. 1 any time soon.
"I'll say this about the quarterback deal. It's gonna take me a few days," Beaty warned. "There's a lot of dudes that can look good in T-shirts and shorts, and there's a lot of guys that can look good when they don't have a whole blitz package coming at them."
The Jayhawks begin practicing in full pads today.
Yenser looking for right combination on O-line
Regardless of who wins the job at quarterback, KU's line will have to protect him to make the offense more productive that it was in a winless season a year ago.
Second-year offensive line coach and run-game coordinator Zach Yenser said his two-deep chart has been all over the place a few days into preseason practices.
Sophomore Clyde McCauley III, junior Jayson Rhodes, junior Joe Gibson, sophomore Jacob Bragg and senior D'Andre Banks left spring football as the starters. But Yenser said now that it's August he has 12 or 13 players in the mix for the top 10 spots on the depth chart, as plentiful reps have allowed him to thoroughly evaluate.
"The 2-deep, all I tell my guys every single day is I'm gonna play the best five," Yenser said, "and I'm gonna try to find the best eight (for in-game rotations) that I feel comfortable with — having a guy who can play both tackles, a guy that can play inside, a backup center."
The way Yenser approaches the O-line, he wants every player in the group to be comfortable at any spot.
"I don't care if you rep at tackle and I need you to play guard. I don't care if you play guard and I need you to play tackle," the former Troy lineman said. "If you're a football player, you will play all five positions on the offensive line."