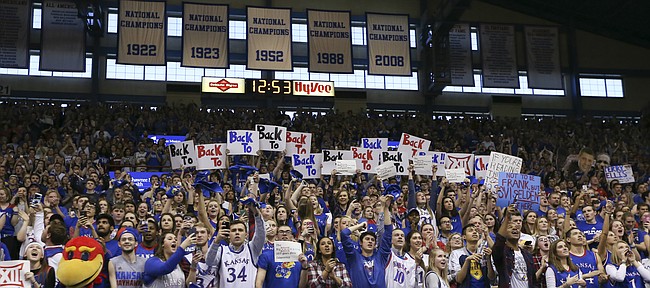 During the past couple of weeks, the college basketball crew at ESPN.com asked America to determine the most difficult venue in college basketball by voting in a series of online polls.
First, they broke it down by conference, seeking initially to identify the toughest arena in each of the top 10 conferences.
To no one's surprise, Kansas' Allen Fieldhouse ran away with the Big 12 crown, earning 50 percent of the vote, the highest percentage of any of the winners.
Now it's on to the next round, where ESPN is asking the nation to decide which of those 10 arenas is the toughest.
The 10 winners by conference were: Allen Fieldhouse (Big 12), Duke's Cameron Indoor Stadium (ACC), Indiana's Assembly Hall (Big Ten), New Mexico's WisePies Arena (Mountain West), St. Bonaventure's Reilly Center (Atlantic 10), Arizona's McKale Center (Pac-12), Kentucky's Rupp Arena (SEC), UCOnn's Harry A. Gampel Pavilion (AAC), Villanova's Pavilion (Big East) and BYU's Marriott Center (WCC).
Through 4 p.m. Monday, Allen Fieldhouse led in total votes (2,750) and was tied at the top with Cameron Indoor Stadium at 21 percent. Rupp Arena (2,387, 19 percent) and Assembly Hall (2,166, 17) rounded out the top four. None of the other six venues had reached the four-digit mark.
No timeline was given for the poll, which is currently live on ESPN's college basketball page.
Tip set for KU-UK
The second leg of the SEC-Big 12 Challenge that will pit blueblood powerhouses Kansas and Kentucky against each other for the second consecutive season officially has a time and a network.
Kansas, which knocked off Kentucky in overtime at Allen Fieldhouse in the challenge last season, will travel to Lexington, Kentucky, for a 5 p.m. tipoff, Jan. 28 in the Wildcats' home gym. The game will be televised by ESPN.
Other match-ups in this year's SEC-Big 12 challenge include: West Virginia vs. Texas A&M;, Oklahoma vs. Florida, Kansas State vs. Tennessee, Texas Tech vs. LSU, Iowa State at Vanderbilt, Oklahoma State vs. Arkansas, Baylor at Mississippi and TCU vs. Auburn.
The Big 12 owns a 20-10 advantage in the head-to-head challenge with the SEC and has won the showdown in each of the first three years.