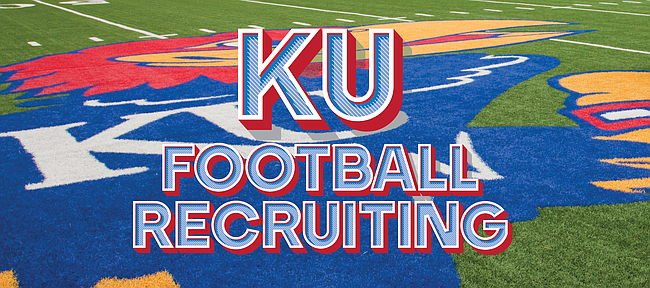 Derby senior Kenyon Tabor drew offers from both of his home state's Big 12 football programs, but when it came time for the 6-foot-4 pass-catching weapon to make an oral commitment Tuesday afternoon, he picked Kansas over Kansas State.
Tabor announced his decision on Twitter, becoming the 12th player in the Class of 2017 to pledge his allegiance to David Beaty and KU.
"Thank you to every coach who recruited me to this point," Tabor wrote in a note he attached to his declaration. "Thank you to my parents and family for everything. I am very excited to announce that I am verbally committing to KU!"
In an interview with CatchItKansas.com, Tabor, who caught 45 passes for 750 yards and eight touchdowns as a junior for Class 6A champion Derby, said his visits to Lawrence convinced him to get in on the ground floor with Beaty and his staff.
"I have a chance to be a face of the rebuilding program at KU," Tabor told the prep website. "I think they're doing something special there. Both teams (KU and K-State) have great coaches, amazing coaches. But I just felt like KU is just the better place for me."
According to Tabor, he didn't reach a final decision between the Jayhawks and Wildcats until a day prior to his announcement. But his past interactions with Kansas coaches ultimately won him over.
Tabor recalled to CatchItKansas that he watched video with KU's staff, and learned the coaches envisioned him lining up "all over" the place in Beaty's Air Raid offense.
"They would put me at wide receiver, run a lot of deep routes with me," Tabor explained. "They would even put me in the backfield. They would do direct handoffs with me, they would put me out wide and give me reverses. Just stuff to get me in open space."
Had Tabor opted for K-State, he said he likely would have ended up at tight end and had to add a lot of weight in order to play the position.
Currently at 215 pounds, Tabor projects as either a larger receiver or versatile tight end for Kansas.
"I liked what KU had for me a little more," he added.
According to JayhawkSlant.com, Tabor called up KU assistant Kenny Perry, his lead recruiter, prior to making his Twitter announcement.
"He said he did not hear me and put me on speakerphone and had me repeat it," Tabor related. "Then I heard a lot of claps and cheering. They were in a coaches meeting so everyone heard it. I had a chance to talk to coach Beaty and he was excited and told me congratulations."
In the 2015 6A state semifinals, Tabor and Derby defeated Free State and fellow KU commit Jay Dineen, 35-14. Tabor caught seven passes for 136 yards.