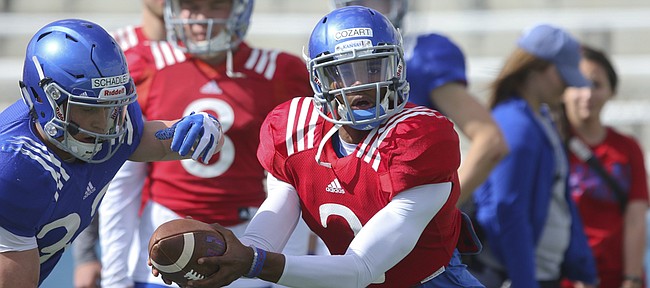 When David Beaty embarked on his first season as Kansas football coach, he hoped and planned to be heavily involved in the offense — play-calling, tutorials with quarterbacks, anything he could do to make sure the Jayhawks reached their potential when they possessed the ball.
The reality of inheriting a program that went 12-48 over the course of the previous five years, however, meant the new man in charge had plenty of other issues to deal with, or as Beaty likes to put it, "say grace" about. So the new KU head coach took a supplementary role when it came to the offense.
After laying what he deemed an appropriate organizational foundation for Kansas — albeit during an 0-12 debut — in his first season, Beaty dove head-first into an expanded role, taking on every offensive responsibility he originally envisioned when he accepted the job. Red-shirt junior quarterback Montell Cozart is glad he did.
In what became an injury-shortened 2015 for Cozart, the Kansas City, Mo., native experienced one kind of Air Raid offense. But the QB recently explained Beaty's version felt much different once KU began installing it during the offseason.
Preparation for the current system took off, according to Cozart, with quarterbacks picking Beaty's brain as they all met together to review necessary adjustments.
"We have the pictures to the test before we get out there," Cozart explained. "We watch so much film and we know what the defense is trying to do to us."
Pace, the QB added, serves as a distinct weapon in Beaty's Air Raid. The Jayhawks plan to snap the ball more quickly than they did last season, when offensive coordinator Rob Likens called in the plays.
"Utilizing tempo makes the defense line up to where we know exactly where to go with the ball," Cozart said, explaining the faster Kansas moves the more difficult it becomes for defenses to disguise their coverages.
Before a damaged shoulder forced him to miss the final eight games of last season (earning Cozart a medical red shirt in the process), he completed 62.9 percent of his 105 pass attempts, for 752 yards, two touchdowns and one interception. However, Cozart thinks this fresh offensive attack suits him better than what he has run previously at KU.
What's more, Cozart described Beaty's scheme as "so much easier" to handle at the line of scrimmage. Last season, the Jayhawks at times lined up before a down and then turned their attention to the sideline for a check, according to how the defense lined up across from them.
Cozart, who will battle sophomore Ryan Willis for KU's starting job during the upcoming preseason camp, doesn't anticipate any QB making as many checks this fall.
"We probably can run anything against whatever," Cozart said. "We can go. There's answers within the play."
To further ensure they understand each possible solution on everything within KU's play book, Cozart said the quarterbacks spent their days since the end of spring football preparing for preseason practices, which begin Thursday. The veteran said the QB's knew they had to enter camp ready to fire. They did so by working together in seven-on-seven situations, studying video as a group or individually and utilizing spare offseason time to run through passing drills without the help of coaches.
In the past several months, Cozart also tried to become an expert on the uptempo attacks of West Virginia, Oklahoma and TCU, and even studied Johnny Manziel's time at Texas A & M.
"Just seeing where they started and eventually where they are now," Cozart said, "it just gives me the vision that we can do the same thing."
When Beaty talks with KU's quarterbacks, he says he can tell they are better grasping his offensive design.
"They're excited about being in an offense that's been — it's proven to be productive, you know. Just about every team that runs it," Beaty said of the Air Raid, "has been very productive. If you track their statistics in one category or another they're up near the top of the country."