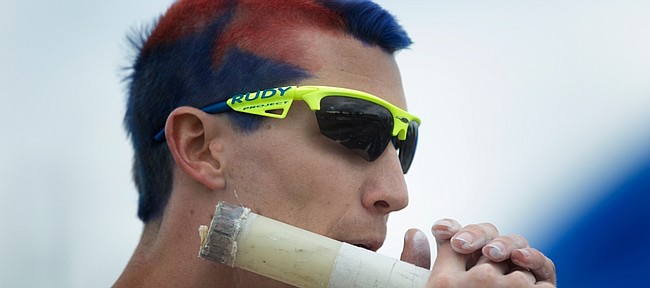 Seven-time Big 12 pole vault champion Jordan Scott has traveled the world competing in track meets both big and small the past decade or so.
"I've jumped in some crazy facilities and areas — streets, beaches, rooftops. This is just another walk in the park for me. It's fun," Scott, a 2011 Kansas University graduate from Watkinsville, Ga., said Thursday after adding "Lawrence, Kansas parking lot" to his life-long list of unusual vault locales.
The 28-year-old Scott adapted quickly to his surroundings and cleared 17-81⁄2, good for a tie for second place (and $450 prize money) at the inaugural Kansas Relays street pole vault competition held in front of the Salty Iguana on the southwest corner of Sixth and Wakarusa.
Former Air Force standout Joey Uhle took home $700 after clearing 18-01⁄2 and surviving a field of seven competitors.
"The setup was good, but I had to get visually acquainted. It took me a while to get my depth perception down," Scott said. "Luckily I did on my third (and final) attempt at that first height (17-03⁄4), then I was good to go. I made the next two bars (17-41⁄2, 17-81⁄2) on my first attempt. That was a season best for me."
Scott, whose career accomplishments include winning the 2010 NCAA Outdoor title and 2013 USA Indoor championships, said he was fired up competing before an enthusiastic crowd of about 800 fans.
"It was really cool. The crowd was cheering for me. It was loud. It was energetic," Scott said. "I wore red and blue in my hair and wore my old KU jersey just to feel like I was the hometown favorite."
He shared second place with Mark Hollis and Jack Whitt, who competed collegiately at Olivet Nazarene and Oral Roberts respectively.
Scott, who painted a blue stripe down the center of his head, with crimson on both sides, started dye-ing his hair various colors for meets, starting in 2010.
It was to remind himself at all times that "having fun" should be his No. 1 priority each and every competition.
"I'm doing really well. I'm finally healthy, things are starting to click," said Scott. "I'm excited for this outdoor season and my chance of making the Olympic team."
Scott caught a bad break his sophomore year at KU when he advanced to the 2008 Olympic Trials finals, but strained his hamstring warming up and had to scratch. In 2012 he was one of five to acheive the A-Olympic standard. He again made the Trials finals, but bowed out after three jumps.
"It was four years of training gone real quick. I've got to try to not make the same mistake twice," Scott said.
He has been asking for financial help as he tries to clear the A-standard (18-8) the next two months and secure a spot in his third Olympic Trials. Fans can donate at his Website jscottpolevault.com.
"I had a full-time position for a year and a half at KU athletics (in IT department), which was phenomenal," Scott said. "If I was at a different stage of my life I'd want that job back. My decision (to quit job) was the best thing I could have done. It made myself realize how much I'm putting out there on the line to make this Olympic team. It puts it in perspective. I've been dreaming of this for years, trying to make the Olympic team. Then when you have to make a decision like that you are like, 'This is real. I'm going all in.' When you have a wife (Julia) who supports you through all that it's amazing. You feel loved. You want to make it happen for yourself and everyone."
He's mighty thankful to those who have donated to help pay his travel costs in the past.
'I actually just ran out of money this last weekend. We're going to start driving to meets and see how it goes," Scott said with a laugh. "I'm glad I made a few hundred bucks here. I've some (money) back in my pocket, thank goodness."
He has a chance to win $1,000 at 2 p.m., Saturday when the Relays open pole vault competition will be held at Rock Chalk Park.
This, that: Vault winner Uhle was named Mountain West Conference Outdoor track and field student-athlete of the year in June of 2015. ... Cody Walton of Nebraska won the Relays decathlon with a score of 7,327. NU has won four of the last six Relays decathlons. Texas Tech's Kaylee Hinton won the heptathlon with 5,348 points. ... A.G. Kruger (unattached) won the men's open hammer with a throw of 235-7. ... The popular Relays downtown shot put event will begin at 6 tonight at 8th and New Hampshire Street.