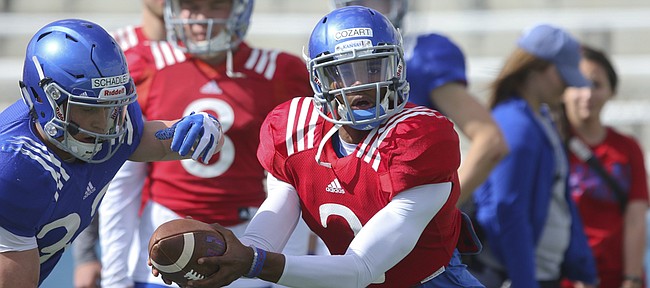 Kansas University quarterbacks Montell Cozart and Deondre Ford on Wednesday received word from the Big 12 Conference that their applications for hardship waivers had been accepted.
As a result, both will receive an extra year of eligibility and enter the 2016 season as red-shirt juniors with two years of eligibility remaining.
Before suffering season-ending injuries early on, both KU QBs started games under center for the Jayhawks during the 2015 season. Cozart, a Bishop Miege High graduate, started three of the first four games and Ford, a junior college transfer, started Week 3 at Rutgers.
"It is great to see the Big 12 is giving Montell and Deondre a year back after both of these guys had their junior seasons end prematurely," KU coach David Beaty said in a news release. "They have worked tirelessly with our medical staff to get healthy and we are fortunate to have two more seasons with them in our program."
With returning eight-game starter Ryan Willis nursing an injured wrist for the past couple of months, Cozart, who injured his non-throwing, left shoulder during the fourth game of the 2015 season, worked this spring as the No. 1 quarterback on KU's depth chart.
Being on the top of the depth chart is nothing new for Cozart, who opened each of the past two seasons as KU's Week 1 starter and has started at least three games during all three of his college seasons to date.
But the uncertainty of whether 2016 would be his last ride was something that weighed on his mind throughout the past several months.
"If I get that, that'd be a blessing," Cozart said of the hardship waiver in early March. "But if it is my senior year, I just want to make the most of it and kind of go out with a bang and leave Kansas on the good side of things."
Cozart said then that he was 85-90 percent recovered from the severe sprain that kept him out of most of his junior season. One month later, the 2015 team captain had elevated that status to 90-95 percent.
"Every day I can just feel myself getting better and back to normal," he said on April 6. "It's been a great process.... Maybe if it was my throwing arm I would feel (more concerned), but it's my off shoulder and I feel comfortable with it and feel real confident where it's headed. It's strengthening and getting back to normal and I feel really good."
Wednesday afternoon, Cozart hit Twitter to share his excitement about the news: "I am extremely blessed and grateful to receive hardship waiver due to injury last year," Cozart Tweeted. "An extra year of work! God speed."
With Willis injured and limited to mostly mental reps during spring practices, Cozart remained in the mix for the starting job. He was less than impressive during the annual spring game on April 9, but Beaty said that performance (10-of-19, 115 yards, 1 touchdown, 3 interceptions) was not indicative of the kind of spring Cozart had.
There also has been some discussion about Cozart moving to another position. But as of the spring game, a move did not seem imminent. It remains to be seen how this news might impact Cozart's future.

Although uncertainty at the game's most important position remains, many expect Willis to enter the season as the Jayhawks' starter. However, Beaty said Tuesday that the race was still wide open and hotly contested.
"We've got a real battle on our hands," the second-year KU coach said. "They know the way to operate. You've gotta earn it here. And the way you earn it at quarterback is you manage the game, you get us into good, highly efficient plays and you move the team. And you do it, all along the way, (while also) being a leader for our team."
We're excited about moving forward. Obviously, the big thing is just getting those guys enough reps to be able to give us a good view of who is who. That'll be kind of key in terms of what kind of decision we make for who (our quarterback) will be."