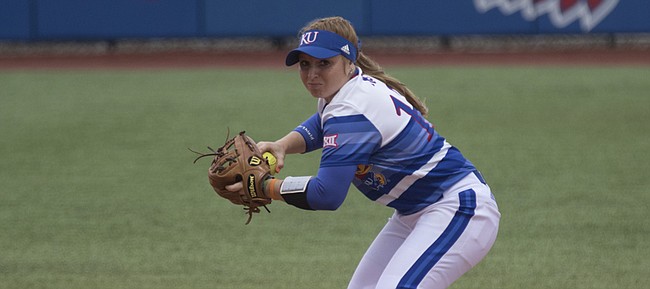 At 5-foot-1, Kansas University softball leadoff hitter Chaley Brickey certainly doesn't scream power hitter when she steps into the batter's box. But those who have seen the four-year starter attack a pitch know exactly what kind of power lurks within Brickey's arms and bat.
A right-handed, run-producing machine, Brickey drove in four and scored twice Sunday afternoon at Rock Chalk Park's Arrocha Ballpark, propelling the Jayhawks to a 9-1 victory over Texas Tech and a sweep of the three-game series.
Although the senior from Haltom City, Texas, struck out in the first, she didn't disappoint in her next two at-bats of what turned into a five-inning, run-rule win for Kansas (27-13 overall, 4-2 Big 12).
After two scoreless frames, Brickey, as she so often does, helped the Jayhawks' offense break through. Following back-to-back singles from KU's eighth and ninth batters, senior Briana Evans and junior Taylor McElhaney, to lead off the bottom of the third, Brickey smacked a two-run double to the left-field gap. Soon after, Kansas took a 3-0 lead on a two-out single by Erin McGinley, who drove home Brickey.
"The people who are behind me are also really great," Brickey said of her no-pressure approach at the plate, which has helped her hit .398. "But I do think it's important to do my job, too, and put the ball in play."
Two innings after drilling the 51st double of her career, moving Brickey into second place all-time at KU (behind Sara Holland's 58 from 1995-98), Brickey blew the game open. On the heels of a two-out McElhaney single, Brickey smacked a two-run homer, her ninth of the season and 38th of her career. The four-bagger off Tech starter Cheyene Powell gave Kansas a 5-1 lead against the Red Raiders (19-24, 4-5) and moved Brickey into a tie with former teammate Maddie Stein for KU's career lead in RBIs, with 150.
"Maddie was a great player, and to be tied with her means a lot, because I know how hard she worked," Brickey said. "I know all those things she did to be as good as she was. That makes me feel pretty special."
Brickey needs six more blasts to leave the field this spring in order to pull even with KU's all-time leader in home runs, Serena Settlemier (2002-06), who hit 44 during her days at Kansas.
"I try not to think about that stuff," Brickey said of KU records, "because it's just too much to think about."
While Brickey has only spent time, off and on, as KU's leadoff hitter since her junior year, coach Megan Smith said she wants the team's most productive hitter getting the most at-bats.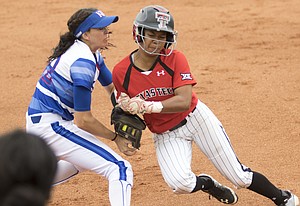 "We've been counting on her since she was a freshman," Smith said of Brickey, whose .770 slugging percentage this season leads the team, "so it's been like that since the moment she stepped on campus. She's just really calm and doesn't try to do too much with her at-bats. She just stays within herself and has good, quality contact every time."
The way Brickey sees it, her production can serve as an example, too.
"Being a leadoff, I kind of look at it as, I'm getting my team going and getting positive vibes in their heads," Brickey said. "If I'm getting on, they can get on, too."
Along those lines, KU sophomore Jessie Roane followed Brickey's lead in the fifth with a walk-off of sorts. Roane's three-run homer to left in the bottom fifth gave the Jayhawks an eight-run advantage and a run-rule victory.
"I actually really like leading off," Brickey said, "because of what I can do for the offense. I enjoy getting the offense going and allowing them to knock me in."
Texas Tech 000 01 — 1 6 1
Kansas 003 06 — 9 11 0
W — Andie Formby, 16-5. L — Cheyene Powell, 7-6.
2B — Chaley Brickey, KU. HR — Brickey, Jessie Roane, KU.
Kansas highlights — Brickey, 2-for-3, 4 RBIs, 2 R; Formby, 5 IP, 1 ER, 2 BB, K, 6 H; Erin McGinley, 2-for-3, R, RBI; Taylor McElhaney, 2-for-2, 2 R.