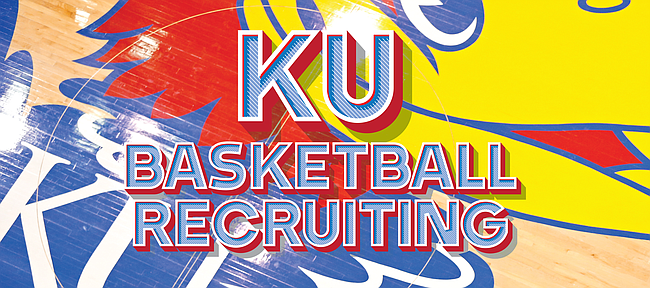 Kansas University's basketball coaches were on the road tracking high school juniors in the recruiting Class of 2017 over the weekend, while continuing to work to fill three remaining scholarship slots for the 2016-17 team.
The biggest remaining prize in the Class of 2016 who is still considering KU is Jarrett Allen, a 6-foot-9, 225-pound senior forward from St. Stephens Episcopal in Austin, Texas. Various analysts believe in-state schools Texas and Houston lead KU, Kentucky and Notre Dame. Rivals.com's No. 20-rated recruit has not set a date for his college announcement.
Trae Young, a 6-1, 170-pound junior from Norman (Okla.) North High, who averaged 24.7 points per game in three victories (nine of 19 from three) for Mokan Elite last weekend at an Nike EYBL event in Brooklyn, will host an in-home visit with KU coach Bill Self on Tuesday, according to Jayhawkslant.com.
Young, the No. 13-rated player in the Class of 2017 by Rivals.com, averaged 33.4 points a game his junior season at Norman North. He was named the Tulsa World state player of the year and the Oklahoman big-school state player of the year. Trae's dad, Rayford Young, scored 1,525 points in 108 games at Texas Tech from 1996 to 2000.
Trae Young has a list of KU, Duke, Kentucky, Missouri, Oklahoma, Oklahoma State, SMU, Stanford, Texas, Texas Tech and Virginia.
Young wants to be part of a package deal with No. 2-rated Michael Porter, a 6-8 junior from Tolton Catholic in Columbia, Mo.. Porter averaged 21.7 ppg for Mokan Elite over the weekend in games scouted by KU coaches. He hit 23 of 35 shots for 65.7 percent and 17 of 19 free throws. He was two of six from three.
No. 1 vs. No. 3: KU coaches watched the marquee game of the weekend event in Brooklyn. DeAndre Ayton's Cal Supreme Team fell to Mohamed Bamba's PSA Cardinals, 69-66. Ayton, a 7-foot, 250-pound junior from Hillcrest Academy in Phoenix, originally from Bahamas, is rated No. 1 in the Class of 2017. Bamba, 6-11, 205 junior from Westtown School in Westchester, Pa., originally from Harlem, is ranked No. 3.
Bamba scored 13 points and grabbed 12 boards, while Ayton had seven points, five rebounds and three assists.
"DeAndre is very talented, but he kind of made the game easier for me by not attacking, at all," Bamba told USA Today.
Of all the coaches in attendance, Bamba said: "I see them, but this is business out there. I don't even know who hasn't offered. I don't have anybody in my forefront. I'm going to do more research during the summer."
For the weekend, Bamba averaged 15.3 points and 15.7 rebounds a game in three victories. Ayton averaged 13.3 points off 55.2 percent shooting and 12.0 rebounds for Cal Supreme (1-2). Ayton told ESPN's Jeff Borzello that KU was recruiting him the hardest of all schools.
Preston update: Billy Preston, a 6-9 junior from Advanced Prep in Dallas who is ranked No. 6 in the Class of 2017, tells ESPN he has cut his list to four — KU, Arizona, USC and Maryland.
"I got kind of tired of the recruitment process. I kind of already had in mind a couple of schools I wanted to go to so I figured there was no point in wasting coaches' time. I might as well get it out of the way, and if any other schools want to offer me, I'll definitely take it," Preston told Zagsblog.com.
Randolph speaks: Brandon Randolph of the PSA Cardinals told Borzello that KU has offered a scholarship. He averaged 11 points in three weekend games off 52.6 percent shooting, hitting three of seven threes. Randolph is a 6-5 shooting guard ranked No. 73 in the Class of 2017 and a teammate of Bamba at Westtown School.
Langford list: Romeo Langford, a 6-4 sophomore shooting guard from New Albany (Ind.) High, competed at an adidas event in Texas over the weekend. He told 247sports.com that KU, Duke North Carolina and Louisville were recruiting him the hardest, with Indiana, Purdue, UCLA and Vanderbilt also showing interest.
Another Diallo: Hamidou Diallo, a 6-4 junior from Putnam (Conn.) Science Academy, who averaged 18.3 ppg for the New York Rens in the Brooklyn event (scoring 26 in one game), was watched by coaches from KU, UConn, Arizona, Kentucky and Duke.
"His upside's through the roof," Rens coach Andy Borman told Zagsblog.com.
"I'm interested in every school that's recruiting me," Diallo said. "It's just the truth. I don't really have no favorites, just enjoying the process."
"He's the most athletic naturally gifted player in the country and maybe not even for his class, maybe just hands down," Borman said. "The kid is 6-6, can do everything and does everything willingly. Plays defense, blocks shots, hustle plays, but the most impressive thing that I've seen is his basketball IQ is through the roof. It's not like he's just a gifted kid but he doesn't know what he's doing. Everything he does has a reason."