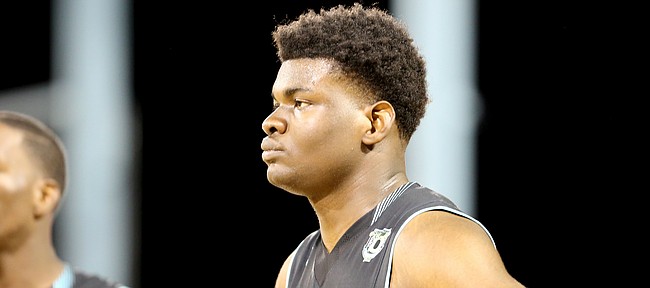 Future Kansas University power forward Udoka Azubuike, a 6-foot-11 senior from Potter's House Christian in Jacksonville, Fla., scored 10 points and grabbed six rebounds in helping the East to a 131-117 victory over the West in Friday's Jordan Brand Classic in New York.
Azubuike, who turns 17 on Sept. 17, thus must spend a minimum of two seasons at KU before being age-eligible for the NBA Draft, hit three of five shots and four of six free throws. Ranked No. 27 in the recruiting Class of 2016 by Rivals.com, Azubuike also had two blocks and a highlight-reel reverse dunk. Co-MVP's De'Aaron Fox and Malik Monk, who both will attend Kentucky, had 23 and 22 points respectively.
Azubuike is looking forward to being a KU teammate of No. 1-rated Josh Jackson next season.
"I just found out from the Internet," Azubuike told Zagsblog.com, referring to learning of Jackson's commitment on Monday night. "I think my boy Mitch Lightfoot, he's going to Kansas, he tagged me on Twitter about it. I just went on Twitter and I was like, 'Oh wow, really?' I was impressed.
"I didn't jump up and down," added Azubuike. "I was really excited about it because Josh is a good player. He's a tough kid to play against. He's a guy that demands a lot of attention from opposing teams. I just feel like he's a really good fit for Kansas."
Zagsblog lists Nigeria native Azubuike at 290 pounds. He told the website he wants to lose 20 pounds.
"When I spoke to (KU coach) Bill Self, (he said) I really have a good chance of coming in and starting right away as a freshman," said Azubuike, who averaged 16.9 points and 9.7 rebounds his senior season at Potter's House. He went for 17.2 ppg and 9.6 rpg his junior campaign. "He said my role is to dominate. Just work on my game and get better."
The next Wiggins?: R.J. Barrett of Canada, who is being called the next Andrew Wiggins, scored 22 points and grabbed eight rebounds, garnering MVP honors Friday in the Jordan Brand Classic International Game.
Barrett is a 6-7 freshman from Montverde (Fla.) Academy. His dad, Rowan, is executive vice president and assistant general manager of Canada Basketball.
"He's R.J. Barrett, he's not Andrew Wiggins," Roy Rana, the Canadian youth National team coach, told Zagsblog.com. "It's like Kevin Pangos wasn't Steve Nash. We often make those mistakes about trying to compare players at a young age. I think we're doing a better job in Canada just letting them breathe and be who they are."
Holden at South Carolina: Kory Holden, a 6-2, 180-pound point guard from Salisbury, Md., who has decided to leave Delaware after two seasons, is visiting South Carolina this weekend, cbssports.com reports. Holden, who averaged 17.7 points and 4.2 assists his sophomore season, will visit Seton Hall on Tuesday and Baylor on April 29. KU and Virginia Tech are the only other schools on his list. He must sit out a year at his new school and will be eligible to play two seasons starting in 2017-18.