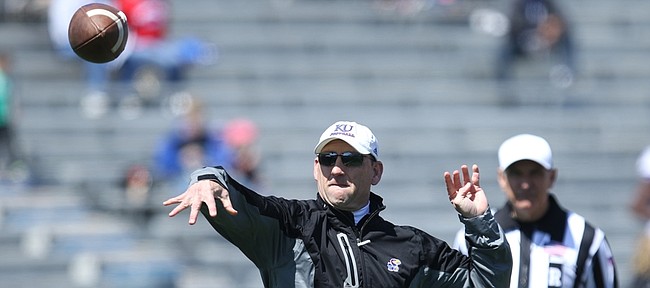 Second-year Kansas football coach David Beaty made waves on the first day of spring football back in March, when he announced that he, and not offensive coordinator Rob Likens, would be calling plays for the Jayhawks this fall.
Last Saturday, during the Jayhawks' annual spring game, Beaty got his first public opportunity to take a stab at calling the new offense.
The game, which was more of a skills showcase than a competitive battle governed by the clock and an emphasis on time, score and situation, was nothing like what Beaty will encounter Saturdays this fall. But it did give the head coach wearing multiple hats another chance to test his chops.
"I think any time you're getting a chance to call off-the-cuff, unless you're scripting it, I think you're working on your role there," Beaty said. "I think that's going to be something that will be helpful for all of our team moving forward, not just me but the communication system that goes on between our coaches up top. They did a great job of giving information."
Of course, the "they" to which Beaty referred included only the offensive coaches. Defensive coordinator Clint Bowen, who led the White team to a 49-42 victory, handled the defense and Beaty said both he and Bowen were forced to adjust to what the other did on the fly.
Because of that, Beaty said both KU's Blue team offense and the White squad kept things pretty simple throughout the afternoon.
"Clint (was) not carrying three calls," Beaty said. "And, offensively (we weren't carrying) a lot of calls, either, but honestly that's your base. You ought to be good at it, so you ought to be able to execute it."
Despite keeping things simple and putting what he called "handcuffs" on the quarterbacks, Beaty said the Jayhawks provided fans with a good glimpse at how the new-look offense would operate this season.
"It's a combination of the beginning call and what the quarterback can put you in," Beaty said. "...(But Saturday) was good because we need to play some base football and see if we can block and tackle and if we can execute at a high level with just really basic things."
Quarterback Montell Cozart, who took the first snaps of last Saturday's game, said the biggest advantage of the new offense is the pace at which it operates.
"Tempo is going to help us tremendously," Cozart said. "Being able to put the defense on its heels helps us as an offense because the defense isn't able to shift around as much. Tempo is something we stress and are going to continue to get better at."
Thursday's 15th and final practice of the spring marked the final chance for the Jayhawks to do that as a team in a football setting and, from here, it's on to summer conditioning and roughly four months of emphasizing the small details — successes and failures — that will be playing on an endless loop in various film rooms this summer.
"There's a lot of things that were good things that we were able to coach right off the field coming off," Beaty said. "But the video is going to be golden for us."