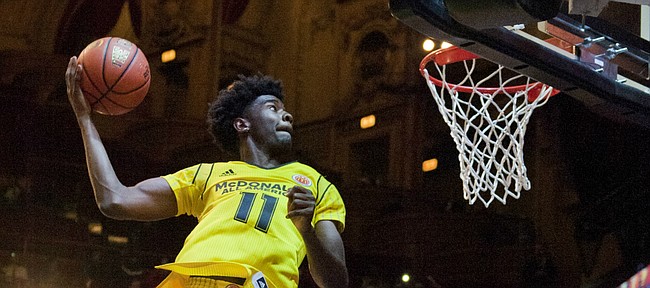 Josh Jackson, the country's No. 1-ranked high school basketball player who vowed to keep his impending college commitment low-key, delivered on his pledge at 7:34 p.m. on Monday.
That's when the 6-foot-7, 203-pound senior shooting guard from Prolific Prep in Napa, Calif., posted a rendering of himself wearing a Kansas University basketball jersey No. 11 on his j_josh11 Twitter account.
Streaks of sunlight streamed through the windows of Allen Fieldhouse and sliced through KU's five national championship banners with the words "Rock Chalk Jayhawk" at the top of the drawing.
The words on Jackson's short tweet read: "Next year I will be attending Kansas University," with a blue and crimson heart and hashtag RCJH concluding the message.
It ended a long day for fans of KU, plus fellow finalists Arizona and Michigan State, who knew only since Saturday that Jackson planned to tweet his decision sometime Monday.
Jackson's girfriend, future Michigan guard Kysre Gondrezick, who had 72 points in a game this season at Benton Harbor High and was voted Michigan "Miss Basketball 2016," mercifully gave the fans a break in the early afternoon hours, tweeting the fact Josh would announce promptly at 7:30 p.m. Central time on Twitter.
Jackson, who averaged 26.9 points, 13.1 rebounds and 6.3 assists his senior season at Prolific Prep and was named co-MVP of the recent McDonald's All-America Game, was back in Napa, Calif., Monday and did not speak about his college choice.
He told USA Today recently that the No. 1 factor in the school he would select was "trust."
"No. 1, I just want to be around people I can trust and who are going to push me to become better on and off the court," he said. "Two is style of play. Each team plays pretty fast. I think that is where I'm best, when we are playing fast or in the open court, transition. Three ... I kind of already said it in the first one, to be under a coach who is going to push me and not just kiss my butt because I am who I am or they want me so bad. Push me to get better."
His new college coach, Bill Self, cannot comment about Jackson until he receives his signed letter-of-intent or scholarship papers. The late signing period begins Wednesday.
"I love coach Self," Jackson told ESPN.com at the McDonald's game. "I love the way he coaches his players. Pushes them, makes them better. When I took my official visit there, I got this real good feeling that they were all about family. You could really trust people there."
Jackson's mom, Apples Jones, who played for Allen County CC in Iola and UTEP before joining the Navy for a time, spoke briefly to Rivals.com on Monday.
"For myself, my goal was to find out which schools had his best interest and all I wanted to do was report back to Josh on what I found," she said. "When I say 'best interest,' I'm talking for the long haul and as a person and not just a basketball player. He's invested a lot in his future success, and I've invested a lot in his future, and we wanted him to go somewhere that he felt he could continue on that road.
"(Kansas) had the plan and roadmap and they laid it out for me," Jones added. "I could see the future they had planned for Josh from his freshman year to his senior year. I could also see that they cared about him more as a person than as a basketball player."
Jackson — he helped Detroit Consortium win a state title his sophomore season before moving on to Prolific Prep as well as Justin-Siena High (where he does his coursework) — is considered a certain one-and-done player. In fact, he's already being listed as No. 1 pick in the 2017 Draft by espn.com. Jackson assuredly will move right into the starting perimeter slot of Wayne Selden Jr., who is off to the NBA Draft after three seasons at KU.
"Josh is an absolute once-in-a-generation beast," Prolific Prep founder Jeremy Russotti told the Journal-World on Monday in a phone interview. He was head coach during Jackson's junior year and also worked with Jackson the summer prior to arriving in California. "Very few are cut from the same cloth as that kid. He's such a strong competitor, teammate. He just cares about winning and competing every possession. Off the court, he's the sweetest, most polite, caring person around kids, adults.
"On the court, it doesn't matter if we're playing pool or pingpong or basketball. He's just a competitive freak," Russotti added. "That's what separates him from most kids. That's what will drive him to be an NBA all star and above."
His head coach his senior season was Billy McKnight, who also raves about the athletic wing.
"Josh contributes in every facet of the game," McKnight told the J-W. "Offensively, he's got great feel, is a fantastic passer, a freak in transition, and will make the SportsCenter Top-10 several times this year."
Those will assuredly come via plays on the offensive end.
He's known for good defense as well.
"I played him at the 1-4 positions this year. Defensively, I adjusted our scheme this year because of Josh. We literally didn't help off other players when Josh was guarding 1-on-1. He guarded 1-5 for us," McKnight said. "He's so quick off the ground. His ability to block shots and rebound will make a huge impact.
"All that said, his greatest attribute is how competitive he is. He plays to win, and that's all there is to it. He holds his teammates to an extremely high standard. Look no further than the McDonald's game this year. It's no coincidence that his team was competing to win that game (Jackson's West team won, 114-107). That wasn't a typical exhibition game. In the two practices leading up to that game, he made it clear he wouldn't tolerate guys not defending. He literally changed that game. He's one of the most competitive kids I've ever seen," McKnight added.
Jackson, who had seven points in Team USA's 101-67 win over World Select in Saturday's Nike Hoop Summit, now is 20-0 in games played for USA Basketball-sponsored teams. He has won Under 17 and Under 19 age-group crowns in major international competition. Jackson averaged 12.1 points, 7.0 rebounds and 2.0 steals per game last summer for the gold-medal Under 19 team in Greece.
"Playing for the national team is way different to anything else," Jackson said recently to news.nike.com, expressing pride at playing for his country. "I'm representing everybody in America and that's a wonderful thing to think about… It's wild."
Jackson realizes he has come a long way in a short time, thanks to his mom, who taught him to play unselfishly and value winning above individual accomplishments.
"My mom was a pretty good player and was offered tryouts in the WNBA," Jackson said, "and a lot of other people in my family played — my dad, my uncles and both aunts played."
A big influence was his freshman coach at Detroit Consortium, Al Anderson, who died after Josh's freshman campaign.
"There were a lot of people who helped the team in my freshman year and sophomore year," Jackson said. "My coach my freshman year I looked up to — he was really influential."
Of winning state in 2014, Jackson said: "That year was the first time my school ever won a state championship. Being part of that team, just playing in Detroit… It's a basketball city, everybody there really likes basketball and our games were packed with fans from everywhere, from all over Detroit — even people not from Detroit came. I enjoy proving people wrong all the time, and we did that when we won the championship."
He won the title for Anderson.
"It was a really tough time," Jackson told Nike of the period after Anderson's death. "We had a lot of people in our school who just looked up to the basketball team so much. They kind of depended on us a lot. Basketball was the main sport at our school so we had to win it for our school and for our coach. I still think about coach Al every day."
Jackson described his game to nbadraft.net: "I'm a very athletic wing who can dribble, play really hard, play hard defense. A great passer. I think what separates me from everybody is how hard I compete and my will to win."
Asked if there's anybody he patterns himself after, he said: "Not anyone in particular but I do watch a lot of college and NBA games, a lot of players, and when I'm watching each and every one of them I just try to take little pieces of each of them and try to add it into my game."
Jackson has plans on developing his game this summer. "I want to improve on my shooting and probably my ball handling a little bit," he said.
This, that: Jackson joins two big men who will join KU's program for next season: McDonald's All-American Udoka Azubuike, a 6-11, 260 senior from Potter's House in Jacksonville, Fla.,who is ranked No. 27 nationally by Rivals.com, and Mitch Lightfoot, 6-8, 210 senior from Gilbert Christian in Arizona, who is rated No. 118. KU has eight returning scholarship players on the roster (Frank Mason III, Lagerald Vick, Devonté Graham, Svi Mykhailiuk, Carlton Bragg, Dwight Coleby, Landen Lucas, Cheick Diallo), meaning two scholarship spots on the team remain open, more if any of the group of Diallo, Bragg, Mykhailiuk elect to turn pro. Diallo has put his name in the draft but not yet signed with an agent.