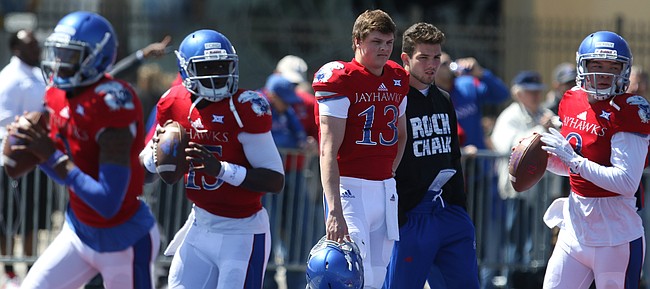 The spring football event, which used to be but no longer is a game, also serves as a dress rehearsal for reporters who cover the Kansas University football program. That's another way of saying it's a day to practice writing the truth without being mean, no easy juggling act in recent seasons.
Here goes:
Quarterback Ryan Willis helped his chances Saturday of winning the starting job by the time the season-opener arrives Sept. 3 against Rhode Island, an FCS school coming off a 1-10 season, by not doing anything to hurt his chances. Willis didn't play, sidelined by a wrist injury he suffered playing basketball.
Podcast episode
Second-year Kansas football coach David Beaty explains the scoring system implemented during the Jayhawks' open practice at Memorial Stadium, and answers questions about KU's progress this spring.
Montell Cozart, the only quarterback since Todd Reesing to start the season-opener in back-to-back seasons, was praised by head coach David Beaty for his strong spring. Saturday, Beaty assured, was not an accurate indication of how the rest of the spring went for the Bishop Miege graduate.
Cozart completed 10 of 19 passes for 115 yards, 61 of the yards on a slant that LaQuvionte "Speedy" Gonzalez turned into a touchdown. Cozart threw three interceptions and two would-be interceptions that were dropped.
Red-shirt freshman Carter Stanley (12-for-22, 117 yards, one touchdown, one interception) showed accuracy on short passes but showed a slow release and lacked zip on long throws.
At its peak, the crowd count stood about 1,200. Many didn't stay long enough to watch halftime, which featured burly linemen fielding punts from the Juggs machine. That sideshow triggered memories of always funny and frank Charles Barkley mocking KU's football program for releasing a video of the players, in pads and helmets, shooting at a basketball hoop rolled onto the football field, playing a game of knockout. That video, made to wish the basketball team luck in the NCAA Tournament, drew far more attention to the football program than anything else from spring practices.
In keeping with that theme of mixing fun and games with practicing football, Beaty had guest coaches Chris Harris of the Super Bowl champion Denver Broncos and Darrell Stuckey of the San Diego Chargers call plays for a stretch of Saturday's public practice.
Kansas, which had one scholarship running back healthy enough to participate Saturday, went 25-13 and won two bowl games in the three seasons Stuckey and Harris were teammates. These are not those days. The Jayhawks carry a 15-game losing streak into 2016 and have lost their last 38 games played outside of Lawrence.
— See what people were saying about Saturday's spring practice during KUsports.com's live coverage.
---
---