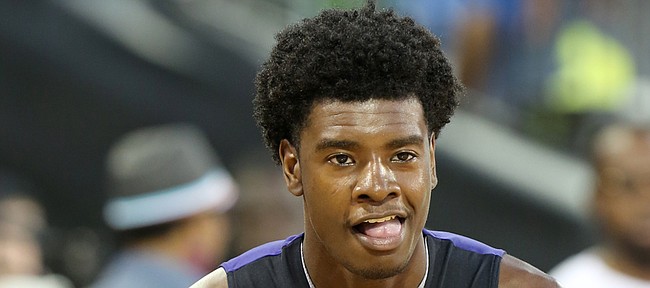 Josh Jackson, the top-rated high school basketball player in the country, scored seven points off 3-of-7 shooting and grabbed four rebounds as Team USA clobbered the World Select team, 101-67, in Saturday's Nike Hoop Summit in Portland.
Jackson, a 6-foot-7 senior shooting guard from Prolific Prep in Napa, Calif., told reporters after the game he would announce for either Kansas University, Michigan State or Arizona sometime Monday on Twitter.
"I know where I'm going," Jackson told USA Today. "I'm not doing TV or any streaming (online) or anything like that. I'll just tweet it, but it will definitely be Monday."
Terrance Ferguson, a 6-6 shooting guard from Dallas Advanced Prep who has a final list of KU, Arizona, Baylor, Maryland, North Carolina and N.C. State, scored 21 points off 7-of-11 three-point shooting. He had 18 points the first half, hitting six threes in less than four minutes.
"I just had to put my hand in some ice when I went in the back," Ferguson, the No. 12-rated player in the Class of 2016 according to Rivals.com, joked to media as reported by USA Today. "I don't even really want to touch this mic (in interview room). It's still hot. I just had it going. The first few felt good, and I knew it was on. They just kept feeding me after that. I just said, 'Throw it up!' That was the plan, throw it up."
Future KU forward Udoka Azubuike had three points and two boards in nine minutes for the World Team. He was fouled hard by a pair of U.S. players in the first half and shaken up on that play, limiting his minutes.
"Am fine. My hip was hurting me. (I) wanted to get back in the game but couldn't, but I will be fine just need a little rest," Azubuike said in a text to jayhawkslant.com.
The 6-11, 270-pounder, who is ranked No. 27 in the Class of 2016 by Rivals.com, is expected to be able to play in Friday's Jordan Brand Classic in Barklays Center in Brooklyn.
No. 20-ranked Jarrett Allen, a 6-9 senior forward who has KU on his list of schools, had nine rebounds and nine points for the winners. DeAndre Ayton, the No. 1 rated player in the Class of 2017 who is considering KU and others, had eight points and seven boards for World Select. He's a 7-footer from Hillcrest Academy in Phoenix, originally from Bahamas.
The U.S. forced 29 turnovers and held the World Squad to 33.3 percent shooting, 3-of-19 from three.
"Our whole motto this week was to come out and be very aggressive from the beginning, and I thought that the guys did an excellent job today at that to set the tone early," said Team USA head coach L.J. Goolsby, who is coach of KC Run GMC's youth basketball team.
The U.S., which had dropped three of the last four games to the World squad, is 13-6 at the Hoop Summit.
No date set: Ferguson was asked about his recruitment after the game.
"I don't have a due date right now, whenever it happens, it happens," he said.
He committed to Alabama in the fall but reopened his recruiting several weeks ago. Over the weekend he said he wanted to visit North Carolina, which has made a recent push.
Wild questions: USA Today asked top recruit Jackson some wacky questions over the weekend:
• Which coach on your list (Bill Self, Tom Izzo, Sean Miller) would have the best chance to be President of the United States?
Josh: "Hmm, I think Bill Self. Just when I look at him sometimes he looks like a president. Also, the way he carries himself. He's a winner. He's won 12 straight Big 12 titles and we've got the best country in the world, so we'd need a winner."
• You're on a lifeboat in the middle of the ocean and you can only save one of the three head coaches on your list; who's getting pulled in?"
Josh: "(Laughs) Oh man! That's tough man… You know what, I'm probably gonna have to go ahead and put Sean Miller on the lifeboat. Sean's my guy and, out of the three coaches, I've probably got the best relationship with him. He coached me with U19 USA Basketball and I think just having that experience with him is why. I can't really say I have as close a relationship with the other two coaches, but I'm pretty sure they're great people. For me, having this close relationship with Sean Miller; he would have to be the one to get saved."