Kansas University managed just six hits and surrendered 13 in an 8-0 Big 12 baseball loss to No. 6-ranked TCU on Saturday at Hoglund Ballpark.
KU's Joe Maroney was thrown out at home to end the first inning to blunt the Jayhawks' best scoring threat.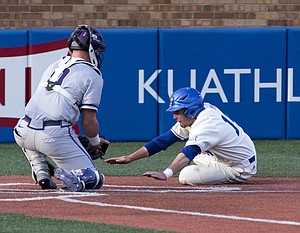 "(TCU starter Dalton Horton) was pretty dominant. He completely shut us down offensively," KU coach Ritch Price said. "He went out there like a freshman today, and we had a chance to score in the first and got thrown out at the dish. The kid made a great throw and a great tag. From that point on, Horton settled in and got better as the game went on."
Horton (5-0) allowed five hits over seven scoreless innings.
Blake Weiman (1-3) took the loss after giving up four earned runs off nine hits over 52⁄3 innings.
"Weiman was in trouble in every single inning but the first," Price said. "The game could have gotten out of hand. How about the four-hit inning TCU had? We turned the five-unassisted-two double play and limited it to one run, and at that point I thought we still had a chance. At the same time, we walked way too many guys and hit too many guys when you are facing a lineup as tough as that one. Before it was over they beat up the backend of our bullpen."
Joven Afenir was the only Jayhawk with more than one hit. He went 2-for-4.
Kansas (12-17 overall, 2-5 Big 12) and TCU (23-7, 5-3) will play the rubber game in the series at 1 p.m. today.
TCU 010 210 022 — 8 13 3
Kansas 000 000 000 — 0 6 2
W — Dalton Horton, 5-0. L — Blake Weiman, 1-3.
2B — Evan Skoug, Dane Steinhagen, Connor Wanhanen, TCU.
Kansas highlight — Joven Afenin 2-for-4.