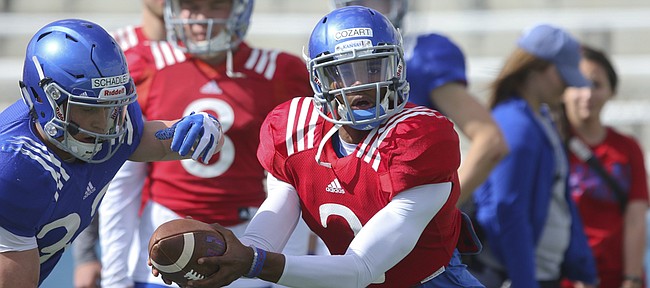 Montell Cozart entered his junior season at Kansas University as the team's starting quarterback, hoping for big things under a new regime, led by first-year head coach David Beaty.
After four weeks of diminishing offensive results and no victories, however, Cozart suffered a shoulder injury, paving the way for true freshman Ryan Willis to start the final eight games of what became a winless 2015 for the downtrodden program.
Willis completed 52.1 percent of his passes and threw more touchdowns (eight) than Cozart has thrown (seven) in 18 career appearances.
An athletic, 6-foot-2 quarterback from Kansas City, Mo., Cozart knew he would be healthy in time for his senior season, but he had to be honest with himself about what he had seen while watching the bulk of the fall from the coaches' box. Willis had staked his claim to be KU's new No. 1 QB in 2016.
Accordingly, Cozart did what he thought had to be done. He went to offensive coordinator Rob Likens and Beaty, and let them know he would switch positions during the offseason if they deemed such a move necessary.
"I talked to those guys and said, 'I'm willing to come back and compete (at QB). But I'm willing to do whatever it takes for our team, whether it's to be on the defense, to be outside, lined up at receiver.' I was willing to do whatever it took for us," Cozart explained.
No one pushed Cozart, a locker room leader, to have that conversation. And, as it turned out, the coaches didn't take him up on the offer, either. According to Likens, who coached KU's quarterbacks last season, before Beaty took over that duty, as well as play-calling responsibilities, this spring, KU's coaches didn't see a need to move Cozart somewhere else on the field.
"There was a time when we talked about, 'What could he play?' if that were to happen," Likens related. "But we haven't talked about that in a long time. That never really was a point of discussion after one talk about that."
Beaty implemented what he described as "more of a true Air-Raid" attack this offseason.
"With this new offense, I felt like maybe the coaches felt maybe I had an opportunity to make a comeback or something," said Cozart, who completed a career-high 62.9 percent of his passes last season. "But I just wanted to be back out there with the guys. It's not about me. It's about us as a team and trying to do better than what we did last year, and, you know, being successful and go bowling, go bowl eligible. That's what we've been talking about all offseason, leading up to the season."
Dreams of postseason football sound implausible, considering KU just went 0-12, and the program hasn't won more than three games in a season since 2009, Mark Mangino's final year in Lawrence. But according to Likens, Cozart is just the kind of person who refuses to let negative energy play a role in anything he does.
"It's been great, because everything rises and falls on leadership," Likens said of Cozat's approach this spring. "With the team and the program, it's the head coach. But when you're out there on the field, it's the quarterback. His leadership skills and his maturity for his age are unbelievable, because he leads by his attitude, and people feed off of that.
"If there's anybody on this football team that has the right to complain about what has happened to him and how many times he's had to learn an offense and all that stuff, it's that guy over there," Likens said earlier this week, pointing to Cozart.
Will Cozart end up back atop the depth chart at quarterback by the fall? It's nearly impossible to tell this spring, especially with Willis missing practices due to an offseason right-wrist injury.