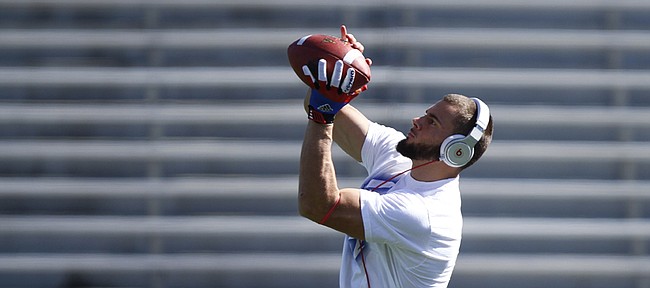 The six-day search for missing former Kansas University football player Brandon Bourbon ended in tragedy on Friday.
According to the Maries County Sherriff's Office, the body of Brandon Kyle Bourbon, 24, was found around 2 p.m. Friday, when a farmer discovered Bourbon's silver minivan roughly 80 miles from his hometown of Potosi, Mo., on a secluded plot of land off Route AA, just north of Vienna, Mo.
Authorities officially ruled Bourbon's death a suicide and the news sent shockwaves of grief and heartache to friends, former teammates, family members and the hometown of the former KU running back, who was last seen last Saturday night.
KU coach David Beaty, who was on the Kansas staff for one season (2011) during Bourbon's five-year career with the Jayhawks, issued the following statement Friday night: "Our hearts are broken to hear the news of the passing of Brandon Bourbon. Brandon was a wonderful teammate and friend. He was a tireless worker both on the field and in the classroom and was a constant source of inspiration within our program. The entire Jayhawk family cared very deeply for him and he will always be in our hearts."
Added associate head coach Clint Bowen: "I will always remember Brandon as a great teammate with a contagious personality. He affected so many with his positive attitude on a daily basis. We were all fortunate to have had the opportunity to have him in our lives."
Bourbon, the former four-star prospect and one-time Stanford commit who battled through an injury-plagued KU career with a smile, finished his playing career at Washburn University in Topeka, where he was voted a team captain.
During his one season with Washburn, Bourbon rumbled to 937 yards and four touchdowns on 219 carries in 11 games while earning Washburn's co-offensive MVP honors.
Said WU head coach Craig Schurig: "We are saddened to hear of Brandon's passing. In one season as an Ichabod, he made an immediate impact with the team... He was a joy to be around and to coach."
At Kansas, Bourbon finished his career with 304 yards and 5 touchdowns on 92 carries while missing all of his freshman and final seasons because of injury.
At Class 3A Potosi High, Bourbon set the school record with 5,551 yards, which included a single-game mark of 451 rushing yards, which ranked as the fifth best outing in state history. The two-time all-state selection also set the school record in the 100-meter dash (10.4 seconds).
Prior to his disappearance, Bourbon had sounded excited and optimistic about the infant stages of his work toward starting an athletic training business to help young athletes prepare for the jump from high school to college.
Former KU coach Charlie Weis, who coached Bourbon from 2012-14, reached out earlier this week to inquire about Bourbon's well being and offered his thoughts late Friday night.
"Awful news," Weis wrote in a text message to the Journal-World. "My prayers go out to the Bourbon family and all of Brandon's friends. Tragic."